This article will provide you with a comprehensive guide to LMN Lend for your convenience!
Select from the list below to jump to its spot within the article!
FAQ
Troubleshooting
What is LMN Lend?
LMN Lend provides financial solutions to enable landscapers to grow and solve business challenges. Built in-app, Contractors can submit applications, and once approved funding can be available within 24-48 hours (Timeline subject to delay dependent on the responsiveness of Contractor to Underwriter's requirements).
Unlike your bank or other lending Partners, LMN Lend is geared towards the Landscape Industry and understands the different verticals that Landscapers may require funding for to support their business:
Accounts Receivable, increase Cashflow
Funds to support Business Growth
Bulk Purchase of Materials/ Supplies
Equipment Purchase/ financing
Seasonality
Shop reno
For additional questions about LMN Lend, email lend@golmn.com
LMN Lend and Plaid
LMN Lend provides Contractors the opportunity to apply for Lending in App. Once the application is submitted, you will be prompted to enter/ upload bank information for Lendflow to perform an analysis on your business flow secured by Plaid.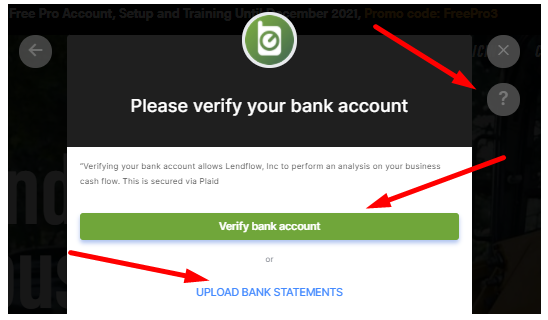 Plaid is a secured application that connects your bank to LMN Lend via Lendflow. Select Continue to select your bank.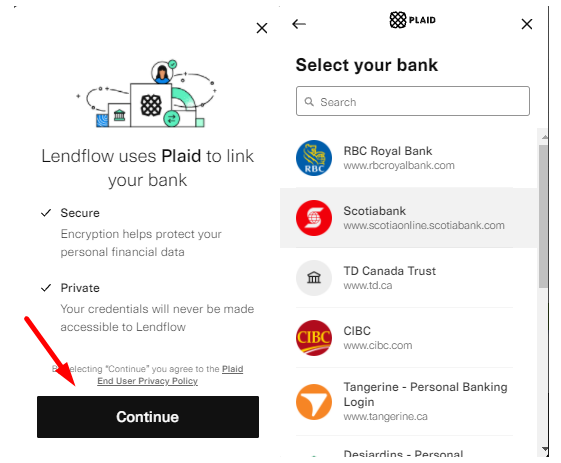 Enter your Bank Credentials and click Submit.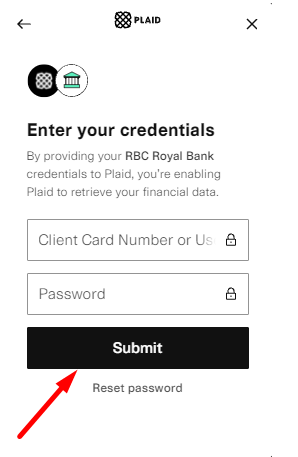 Signup Form
Introducing LMN Lend! Access external capital to unleash a range of possibilities for growth to your business to the next level.
To start, go to Help & Resources > Lend to complete Application: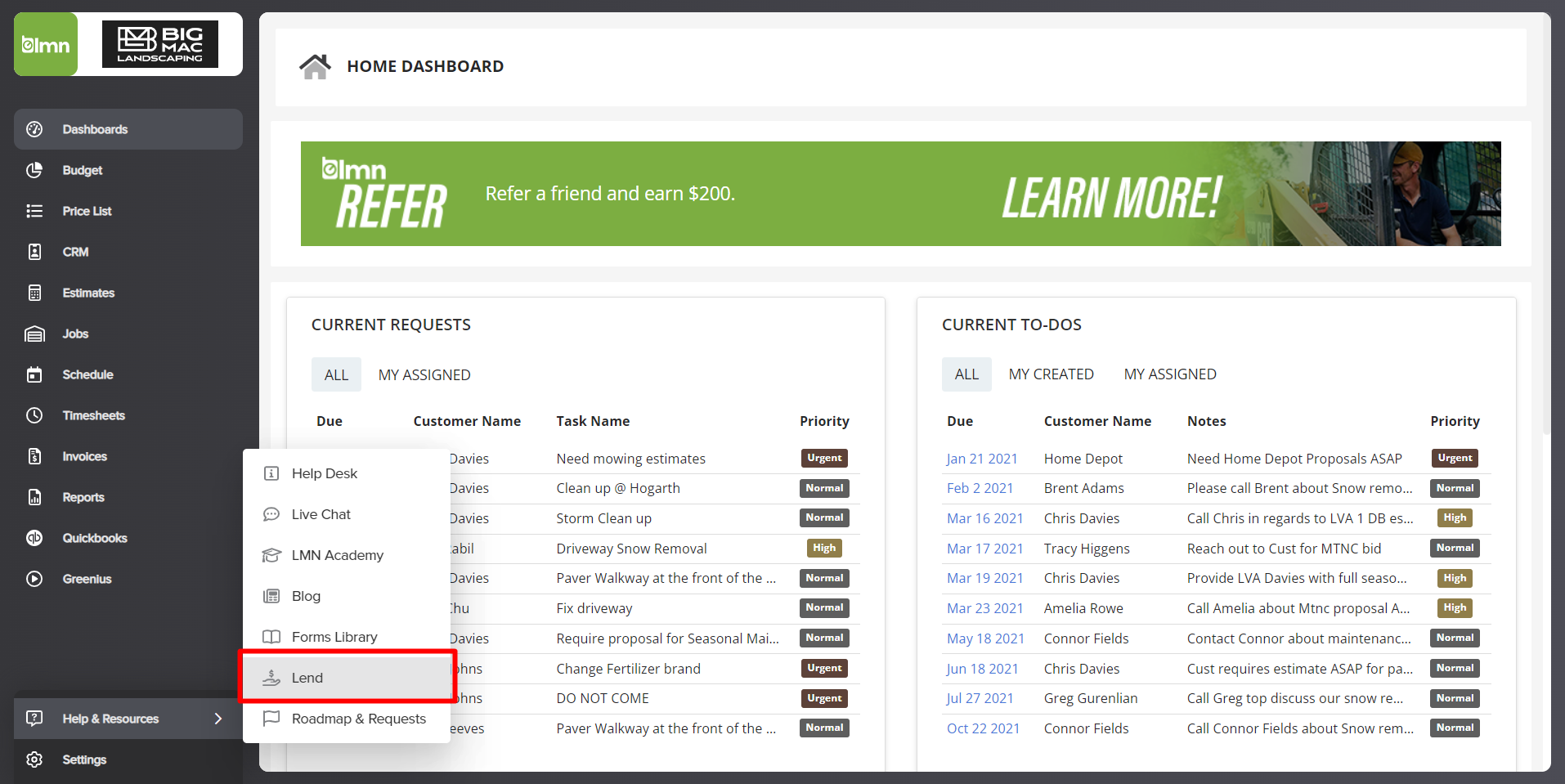 Click Link to open Quick Application for Capital form: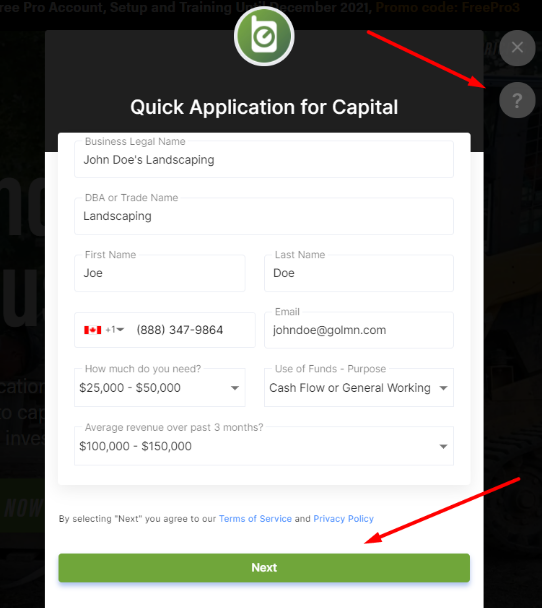 Complete Step 1 of the Quick Application by entering information into the required fields and click Next:
Business Legal Name
DBA or Trade Name
First Name, Last Name
Phone Number and Email
How much do you want to Lend?
Use of Funds

Business Expansion
Purchase Equipment
Buy Inventory or Supplies
Debt Consolidation
Etc

Average revenue over the past 3 months?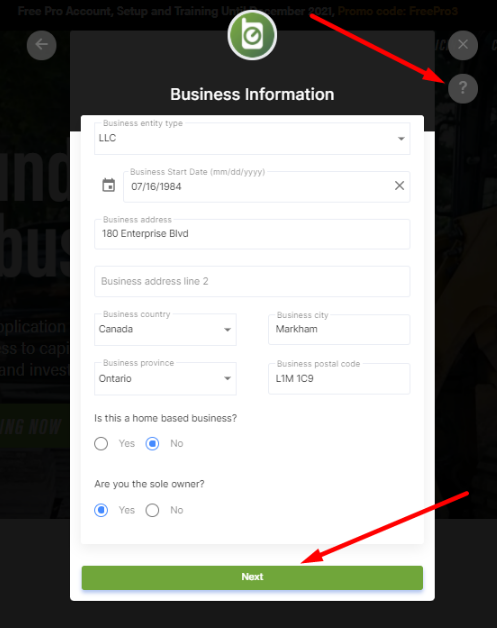 Complete Step 2 with the required business information and click Next:
Business entity type

Corporation
Partnership
Etc

Business Start Date (mm/dd/yyyy)
Business address, Country, City, and Zipcode/ Postal code
Is this a home-based business?
Are you the sole owner?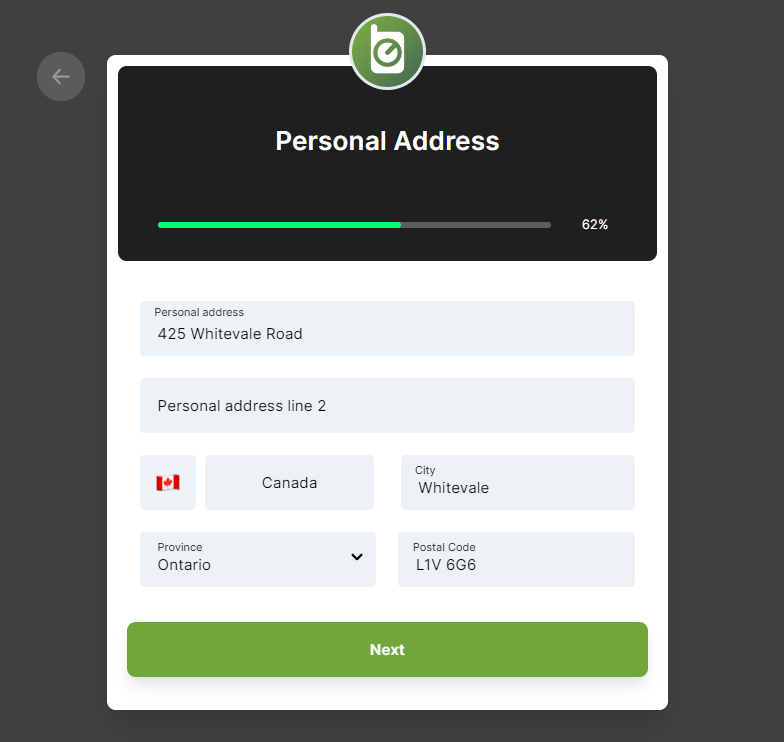 Fill in required Owner Information and click Next:
Date of Birth
Personal Home Address
City, Country, State/ Province, and Zipcode/ Postal code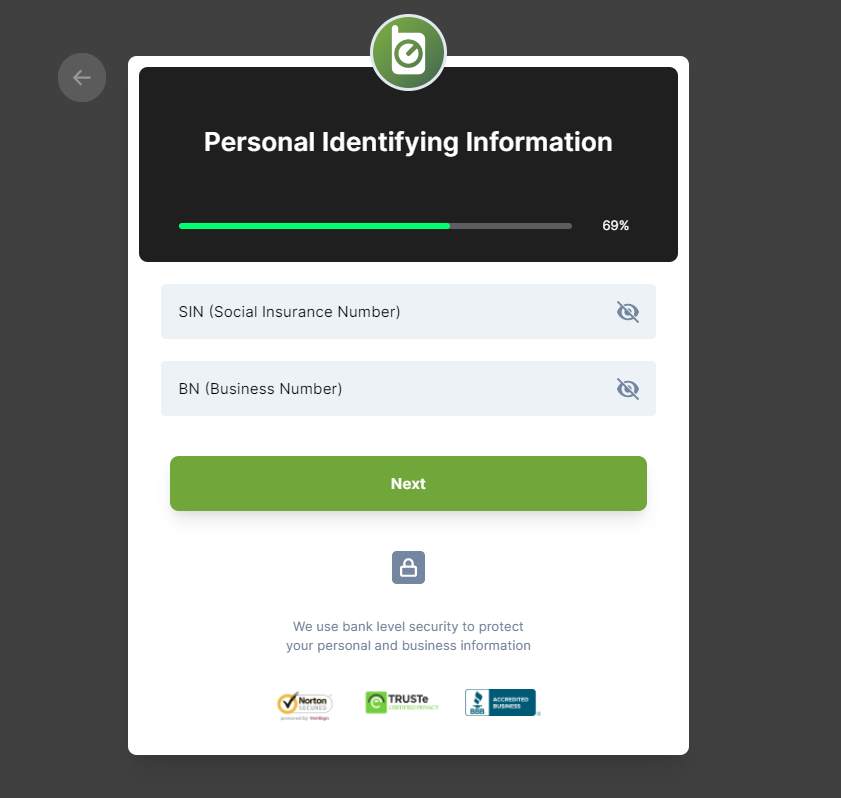 The last step, enter your Social Insurance & Business Number and click Next: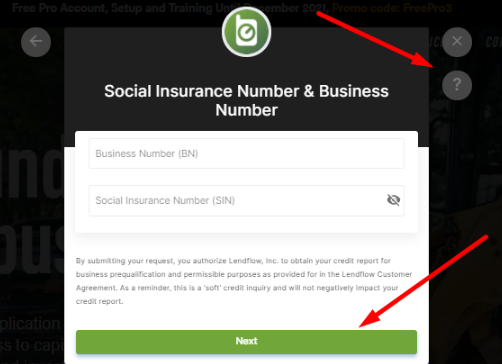 Once complete, a DocuSign prompt will appear to review submission and sign. Agree to the Terms & Conditions and click Continue: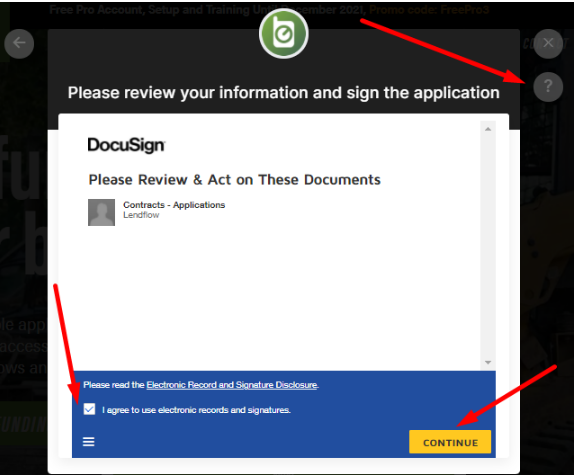 Review submission and click Start to sign required fields. Once complete click Finish. Once submitted, you will be contacted in-app and/ or via email if additional information is required to underwrite the loan.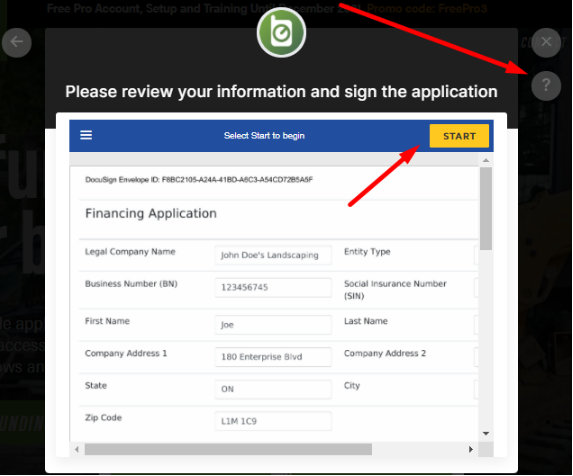 Any questions regarding submitting an application, email lend@golmn.com and/ or click on the top-right icon (?) to submit a question.
LMN Lend FAQ's
Who qualifies for funds at LMN Lend?
LMN Lend is designed to make it easy for all businesses to get the funds they need, and when they need them. There are minimum requirements that your business would need to meet in order to qualify for funding through LMN Lend. Our criteria are extremely attractive compared to lenders in both the traditional and commercial lending space. While each application is approached on a case-by-case basis — as each business is different — if your business has been operating for at least 6 months, and has at least 10k in monthly revenue, you may qualify for LMN Lend. Remember, this is just an example, and other factors may contribute towards qualifying for financing, but this is a good starting point.

Where do the funds come from?
The offers will come from any of over 100 financial institutions and are specific to the financial product, value, and credit score of the applicant.

Is there any risk to LMN?
No. LMN is not part of the credit decision, offer and has no risk associated with the loan, repayment or any part of the transaction.

Does submitting an application impact a credit record?
The application does not require a hard credit pull to do. If based on their credit and funding needs a hard pull is required the customer will be contacted for their approval

Are our rates competitive?
The interest rates come from over 100 financial institutions which give the client the best chance of having the lowest rates and a variety of options to choose from

How long does it take to fill out an application?
Filling out an application for LMN Lend is super quick and easy, and shouldn't take longer than 5-10 minutes!

What documents will be required?
The documents required will vary on a case-by-case basis, but generally, proof of financials and any documentation required to obtain a credit score are the bare minimum required for an application, though additional information may be requested by our lending team.

Does the contractor need to give a personal guarantee?
Personal guarantees are only if they are necessary. For example, an owner that only has a small share in a company may need to provide one to secure the loan. Risky credit scores may require one as well. Since the lenders are competing in a marketplace for the business typically they are only asked for if needed.

How long does it take to get approved?
In little as 48 hours, however, can take 4-6 days dependant if additional information is required by underwriters.

What if I have more questions?
For any additional questions, or if you are looking for more information on LMN Lend, simply send an email to lend@golmn.com and a member of our lend team will get back to you.
Acorn: Home Improvement Financing/Lending FAQ's
What is LMN Home Improvement Financing?
LMN has partnered with Acorn Finance, a marketplace of top lenders, to offer your clients access to personal loans for their home improvement projects.
Make your client's dream projects more affordable
Help clients pay for unexpected major repairs
Ensure clients have the cash flow to cover any change orders or project scope increases
The project cost as an estimated monthly payment is presented professionally on the estimates and invoices. By making financing available and incorporating it into your sales process will help increase your job winning rate and average project size.

How much does this cost?
LMN Financing costs you the contractor nothing. There's nothing for you to sign up for and nothing for you to pay.

What do I need to do to get started?
Nothing! All you need to do is issue estimates and the LMN Financing option will be professionally presented right on the documents with the project amount.
Please Note: Customer must be setup as a residential client in the LMN CRM for the financing option to display on documents.

How does LMN Financing work?
Check out our quick explainer video here: https://golmn.com/acorn-home-improvement-financing-information/

Will offering LMN Financing impact my credit score?
Absolutely not. The client will deal directly with the lending company, and their financing offers will be presented based on their own credit score and financial standing.

Who is offering the financing?
LMN has partnered with Acorn Finance, a marketplace of top lenders, to provide quick and easy home improvement loan options. The lenders provide the financing directly to the customers once they select and apply for one of the loan options.

How to get in touch with lenders
If your client has a question about the application process, they can reach out to the Acorn Finance support team directly from their loan application by starting a chat or calling the phone number provided. An email address is also provided within the application experience..
If your customer has applied for and received their funding, they can reach out to their lending partner directly by using the contact information provided during the application approval process.

What loan sizes are offered?
Personal Loans are available from $1,000 to $100,000. Some homeowners may also choose to see options for home equity products up to $500,000 depending on their state of residence and requested loan amount.
Our network of lenders makes it easy to get the money you need.
Explore options for an unsecured loan for home improvement up to $100,000.

What is the loan interest rate and term length?
Loans options are available with APRs as low as 4.49% APR and terms as long as 12 years through a marketplace of top lenders. The loan amount and interest rates vary based on a number of factors. 1,2

How long does it take for the loan to be issued?
Loan pre-qualification and final approval from most funding partners can be made within a few minutes, however this depends on how quickly the client proceeds through the entire application process. Once a client is approved for a loan, they should expect to receive the funding within 1-3 business days on average, however, some may take as long as 5 business days. Home equity loans can typically take several weeks based on the process for these loans. 3

Are we the contractor liable for the client's financing decision or actions?
No. The financing agreement is between the client and the lender. You are not liable or responsible in the case that the client cannot repay the loan that they have funded from this process. There will be no impact to your personal credit score.

What happens if a client defaults on their loan
If a client defaults on their loan, this would not affect you. Assuming you have already been paid for your work, the money you have been paid will remain yours.

Will we know if the customer actually applies or not?
This feature may be available in the future

Will we be able to see if the customer was approved or declined when they apply for financing?
Lending decisions are made completely between the client and the lender. To ensure we protect the privacy and security of your clients, information about client loan approvals are kept confidential.

Will we know which company approves the loan and when the customer receives the funds?
The specific funding partner the customer selects and receives funding from will be kept confidential to protect their privacy and security, and in accordance with each lender's privacy policy.

What will my client see when they click the financing button on the estimate?
With our integrated financing experience, powered by Acorn Finance, your client will be connected to Acorn's website, where they can check their offers, rates and terms within minutes. If prequalified by one or more lenders, they will have the opportunity to select and formally apply for their offer online, directly with their chosen lender.

Can the client do something different with the funds and not proceed with the home improvement process?
Technically, yes. The client is like any cash buyer. The client is funded for a personal loan with the purpose of home improvement. As a result, they can spend the funds as they see fit. The loan itself is between the client and the lender, and is unrelated to your company's existing estimates, invoices and terms of service - you should be receiving estimate approvals and invoice payments as you normally do, as if the client had the cash up front.
The product has been built this way to keep things as simple and cost effective as possible for contractors. Additionally, when you enable the customer to connect to funds for their project as part of your sales experience, you save the customer time and money and you close more business faster.

Can I still accept credit card payments
Absolutely! Credit card payments are a separate feature and are complementary to the homeowner financing program. Both help you win more jobs and get paid more reliably. Clients who use the Acorn platform to request and receive homeowner financing will receive their funds directly from the lender. You continue to accept your client's payment(s) based on your preferred payment methods.

What countries have access to the LMN Financing option?
LMN Financing, powered by Acorn Finance provides financing for customers in the USA. The map below shows current coverage.

To check current coverage, please visit: https://fs.acornfinance.com/banners/acorn-states-coverage-map.png

Do you offer contractor business financing?
Business lending options are available to you or your commercial customers through LMN Lend. Find out more here https://golmn.com/lend/
What if I have more questions?
We're always here to help. Reach out to us at support@golmn.com
Legal Disclosure:
1 Terms up to 12 years; 2 APRs as low as 4.49%; 3 Receive funds in 1-2 business days
Offers/terms received are personalized based on loan amount, credit profile, borrower income, lender criteria, and other factors.
If you are not pre-qualified, you will be notified immediately. You may refer to messages from Acorn Finance or its lender partners for more information about the decision. You
may re-apply for a different amount, to add a co-borrower, or after unfreezing your credit file. You may also provide an alternative form of payment to CertaPro Painters.
Acorn Finance is not a lender but partners with lenders to make loans available. Acorn Finance is available online in the United States via internet-connected smartphones, tablets and personal computers nationwide except for MA, MD, NV, RI, VT, WV.
The lenders on Acorn Finance's network don't charge any penalties for early repayment. Some lenders charge an origination fee or other closing costs between 1-8%, and may deduct that fee from the loan amount or increase the loan amount to include the fee. No-fee options are clearly highlighted on the offers page in the application flow.
1,2 Annual percentage rates on loans with our partner lenders range between 4.49% and 35.99% and terms range between 2 and 12 years. Rates as of 3/4/2022. Advertised rates and terms are subject to change without notice. 3 Funding times may vary.
1,2 For illustrative purposes only, if you request $10,000, you could get a total loan of $10,000 with an 8.94% interest rate and $0 fees (note, if the lending partner charges an origination fee, it will increase the APR). You would receive $10,000 with 84 payments of $161. Actual rate and maximum loan amount are determined solely by the lender, which may differ from this example and depend on loan purpose, amount, term, length, and your credit profile. Loan closing contingent on final credit approval, verification of income, and other criteria established by the lender and your acceptance of all agreements and disclosures. Pre-approvals use a soft credit pull, which does not impact credit score; however, lenders will conduct a hard credit pull when you express interest in an offer and this could impact your credit score. This information is presented without warranty or guarantee of the availability of any loan.
Customer Service
Merchant Services is available to support existing customers with all inquires as well as assist new customers interested in enabling LMN Lend for their business.
LMN Lend Support and General Inquiries
For any questions, information, or assistance with LMN Lend please email lend@golmn.com and a member of the Merchant Services team will get back to you within 1 business day.