Within this article you will find all information related to managing your LMN Subscription for your convenience!
Select from the list below to jump to its spot within the article!
Managing Your LMN Subscription
To manage your LMN subscription:
LOGIN to an LMN account (you must be logged into an account that has Security Admin permissions set to ON), then click on Settings
Under Account menu, click Subscription
After opening the subscriptions page, select the LMN package you wish to upgrade to then follow the on screen prompts to make the switch
Please note that at this time, LMN currently accepts the following methods of payment:
Visa & Visa Debit
MasterCard & Mastercard Debit
Amex
LMN does NOT accept:
If you are attempting to pay with Visa/Mastercard (Debit or not) and you are experiencing difficulties successfully processing the payment, please speak with your banking institution to ensure that the charge from LMN is not being blocked.
Change your LMN Subscription Package
LOGIN to an LMN account (you must be logged into an account that has Security Admin permissions set to ON)
Click Settings > Under Account menu, click Subscription
See below for the subscription changes that can be made:
Upgrade My Free Account
After opening the subscriptions page:
Confirm the subscription package you wish to sign up for (LMN Pro or LMN Pro +Plus Pack).
If you were referred by a friend, enter their Referral Code in the respective field. Click Next.
Confirm the Implementation Package you wish to purchase. Click Next.
Enter Payment Information. Click Upgrade.
Congratulations! A member from our Professional Services team will be in contact with you shortly.
Upgrading from Pro to Pro Plus
It can be common to make the switch based on some of the distinct features in the Pro Plus pack as covered in these articles:
Uploading Photos to Timesheets
Switching from Pro to Pro Plus subscription can be a common crossover.
Follow these steps below to make the switch!
Log into your LMN Account

Click here to log in.
Click Settings > Under Account menu, click Subscription
Within the Add-On Packages section, click Subscribe
Acknowledge the check box once Terms and Conditions have been read and Select 'Pay $ amount'
With this, you are now equipped to enjoy the convenience and benefits of our Pro Plus pack.
Self Serve Billing Portal: Invoices, Statements, and Card Info
Our new billing portal allows users to view and manage all their account information such as:
Edit your company info/billing address

View your current subscriptions and billing dates

View + print past invoices

View + print a current account statement
To access the billing information portal, simply go to Settings (gear icon) > Under Account menu, click Subscription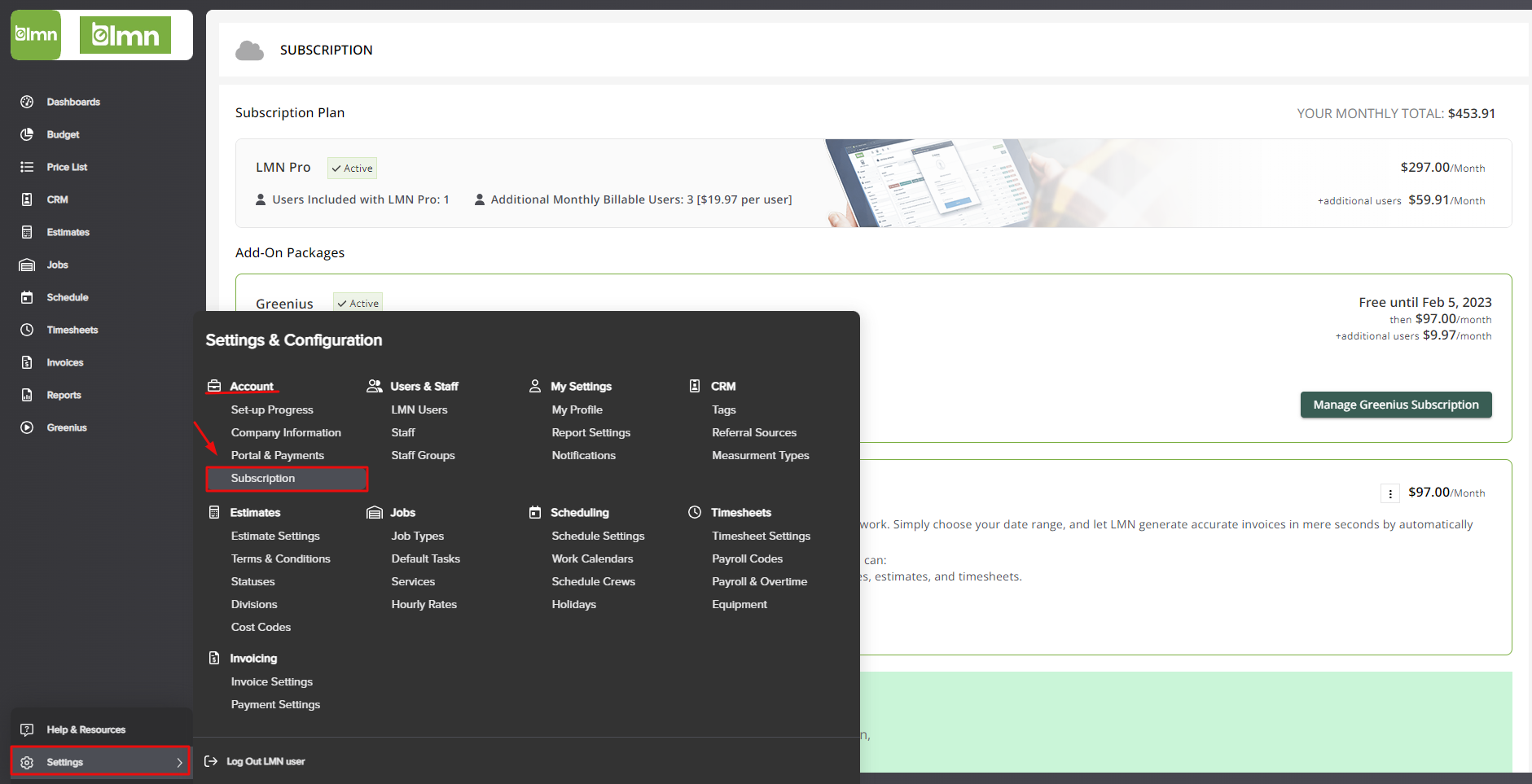 Click View/Update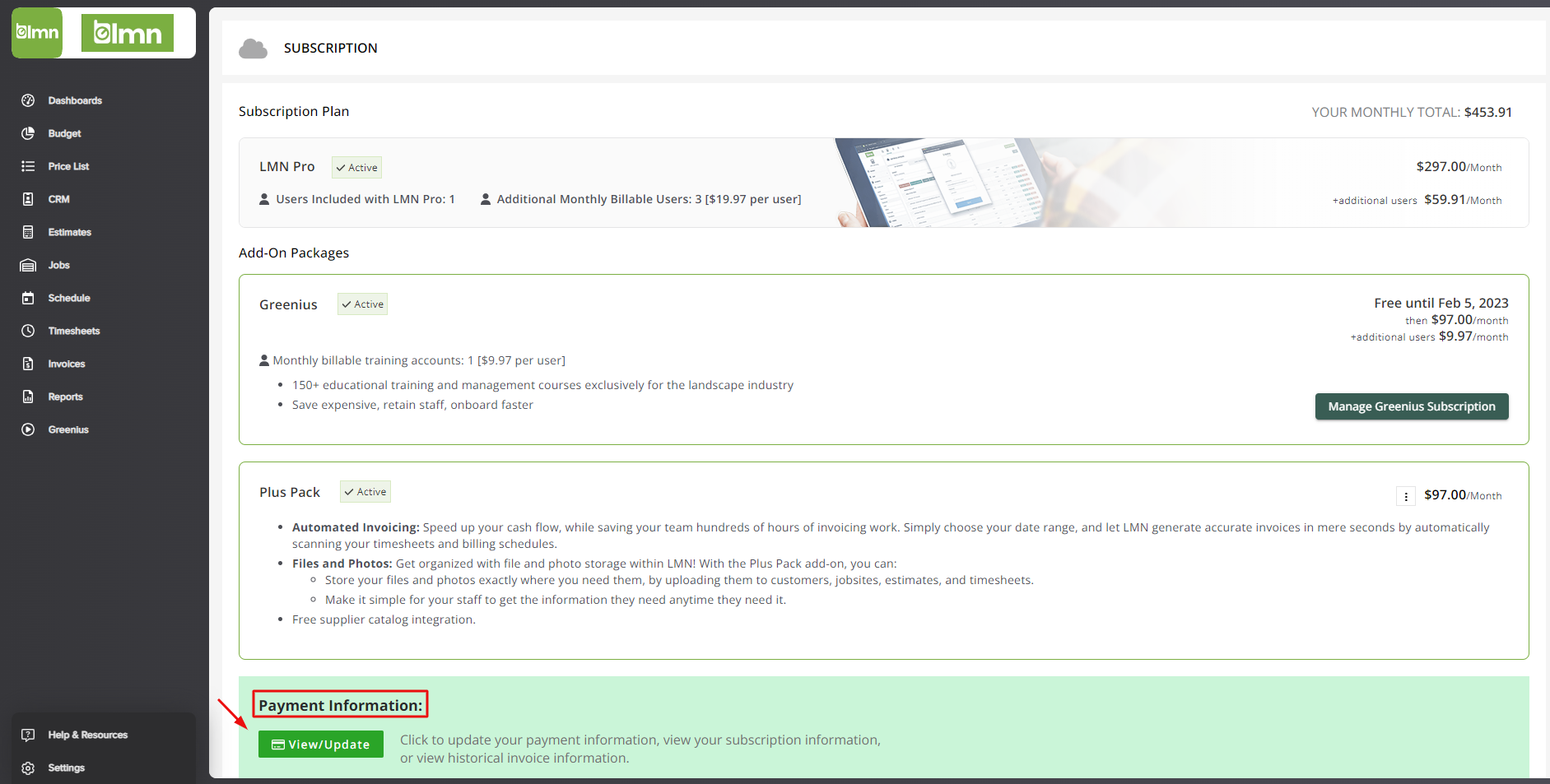 After clicking View/Update from the Payment Information, another window will pop-up and from here you can:

View your Existing Balance

Manage your Payment Methods

Review your Subscription
Review your Invoices
Review your Statements for an

itemized breakdown

of your charges

The menu on the top right also has the option for you to edit your Profile as well!
Please note: if a new tab does not direct you to the Billing Portal after clicking "View/Update", it is due to your browser pop-up blocker preventing the page from opening. You will need to grant our website permission to allow pop-ups to be displayed.
Why cant I see the Billing Portal?
If you are unable to access the LMN Billing Portal using the steps above, please use the below troubleshooting methods.
Do you have Accounting permissions? If not, please reach out to your company's LMN Administrator to have your username updated.
Do you have a pop-up blocker on your computer? The LMN Billing Portal will open in a new tab. If you click on Payment Info and nothing happens, please follow the steps below (based on your browser).
Chrome
Click the three vertical dots in the top right-hand corner of your screen.
Click Settings and then Privacy and security
Under Privacy, click the Site Settings button.
Scroll down to Pop-ups & redirects
Under "Allowed to send pop-ups and use redirects" add [*.]my.golmn.com.
Firefox
Click the three horizontal lines in the top right-hand corner of your screen and click on Options.
Click on Content.
Beside Pop-ups, select Exceptions.
Under Address of Website, enter https://my.golmn.com and click Allow.
Click Save Changes.
Adjusting your LMN Subscription Payment Method
You can change/edit your credit card, or your billing information through the LMN self-service portal. Just follow these simple steps:
Click Settings > Under Account menu, click Subscription
On the Subscription screen, look for the Payment Information section and tap the View/Update button
The subscription management portal will open in a new tab. If you don't see a new tab open, make sure you allow popups from LMN - your popup blocker may try to block this new tab on your first attempt.
On this screen you can:
Add a new credit card
Set a credit card to be your default billing card
Edit your credit card information or billing address information [Click Edit to adjust]

To replace the existing payment method

[Click Edit to adjust]

, you must first add the new payment method*
How to Pay your LMN Subscription Balance Owed
In the event you cannot access your LMN Account, you have the ability to pay your balance owed and have access instantly.
In order to pay your subscription, you can do so by following these directions below:
Click Settings > Under Account menu, click Subscription
Scroll down to the bottom to click View/Update within the Payment Information section.
A new tab will appear where you can pay your balance directly within 'Invoices'. You may also update your payment method by clicking Manage
Within the Invoice tab, click 'View' on the far right to access your invoice. You will see a green Make Payment tab to pay your invoice directly.
What information gets purged if I downgrade my account to LMN Free?
If you're on an LMN Pro or LMN Pro Plus+ plan, and you choose to downgrade to the Free plan, here's what will happen.
LMN Free plan is a plan that provides unlimited access to Budgeting, CRM and the Item Catalog. You can use these sections (for free) for as long as you'd like. The LMN Free plan has a limit to your active users (5) and the number of estimates it can store (5 standard estimates, 15 service estimates). LMN Free does not include any access to LMN's QuickBooks Sync.
Here's What Happens When you Downgrade
Your access to data not included in the LMN Free plan will be immediately suspended. We will hold your data for a 25-day grace period, after which your data will be permanently deleted.
Here's list a summary of the data that will be purged
All Invoices, Invoice Runs, and Invoice Groups
All Scheduled and/or Wait List visits
All Schedule Crews, Holidays, and Work Calendars
All Unscheduled Routes
All Timesheets and associated Timesheet Data
All LMN jobs, billing, scheduling and work history
All staff from LMN
Any users over the limit of 5 will be deactivated
All but your first 5 standard estimates (sample estimates count)
All but your first 15 service estimates (sample estimates count)
LMN Cancellation Policy
**Please do not solve your cancellation ticket from this article so we can avoid any disruption to the process.**
You're free to cancel LMN at any time we just require 30 days notice as per Section 5.2 in our service agreement. There are no term contracts that you're locked into.
To cancel your account please send us an email to support@golmn.com from the Main/Primary Contact of the account. For your security, we cannot process cancellations over the phone, a request in writing must be received from the primary email address (Super Admin) on the account.
Once received, one of our reps will reach out to confirm the cancellation via phone and then process the cancellation.
If you require further assistance, please contact our Support Team via email at support@golmn.com or reach out to us through our Live Chats feature or by Phone: (888) 347-9864!