Within this article you will have a complete guide to LMN's Live Tracking Features for Jobs and Crew!
Select from the list below to jump to its spot within the article!
Job Tracking
There are many reports that will show you exactly what's happened (or is happening!) on a job, but some are faster than others.
The easiest on-screen report is the Live Tracking screen. If you got a call from a customer who was looking to check in on whether you'd been at their property yet, you could give them accurate information in about 10 seconds or less.
Click Settings > Timeheets menu in LMN Time on the left-hand menu, then click Job Tracking.
By default you will see the Live Map screen, which you can use the filter to view by Job Group. To the right of the screen you can set the intervals you would like to view.
Click the Job Tracking > Job History tab to view a list version.
Either search for a specific job, or use the GROUP dropdown to pick an entire job-group or route. LMN will display a screen of all the jobs and tasks that meet that criteria
Click on the job for complete details
Job Tracking: Live Map & Job History
Live Map
Colors on the Live Map have been updated to signify potential necessity for visit (ie. sites which have not been visited in over 24 hours will be indicated as red).
The icons on the map will also indicate which category the job falls into:
Green = someone is clocked into the job currently
6 = less than 6 hours since last visit
12 = less than 12 hours since last visit
24 = less than 24 hours since last visit
>24 = more than 24 hours since last visit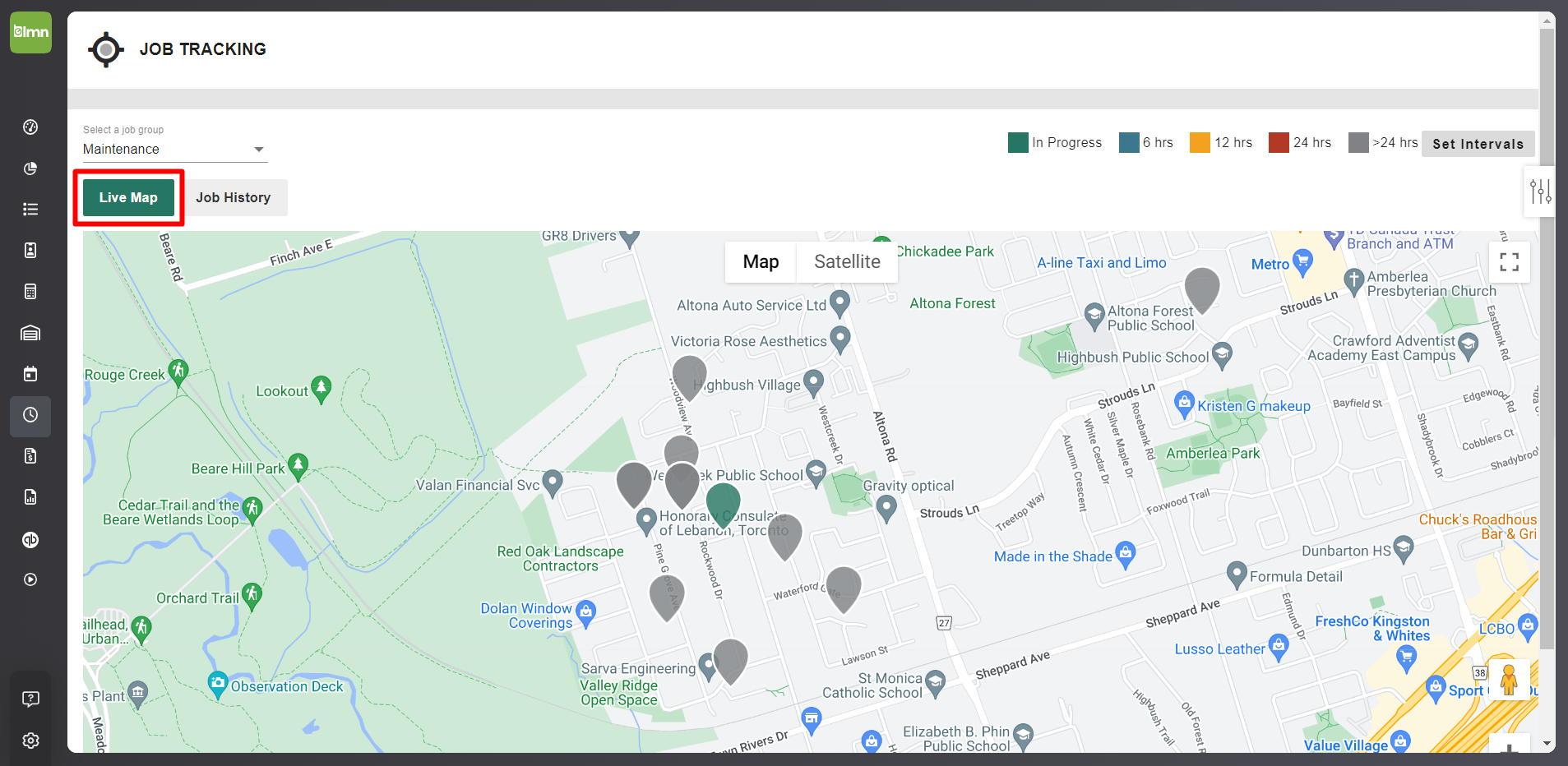 To set your preferred intervals, click the Set Intervals button at the top-right of the page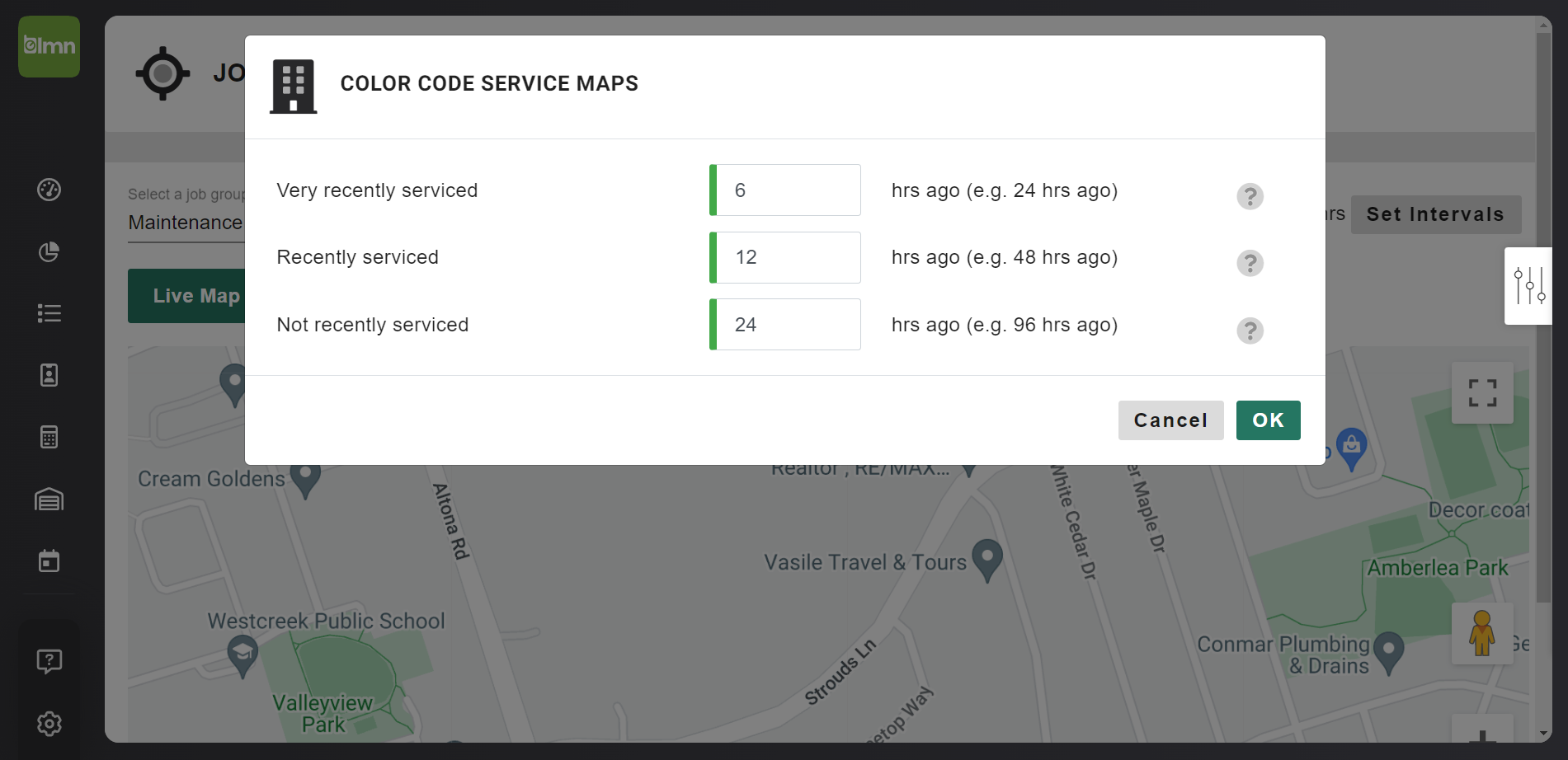 Job History
You can also see a list view of your jobs in relation to the live map with set intervals.
Under Job Tracking tab > Click Job History button for a list view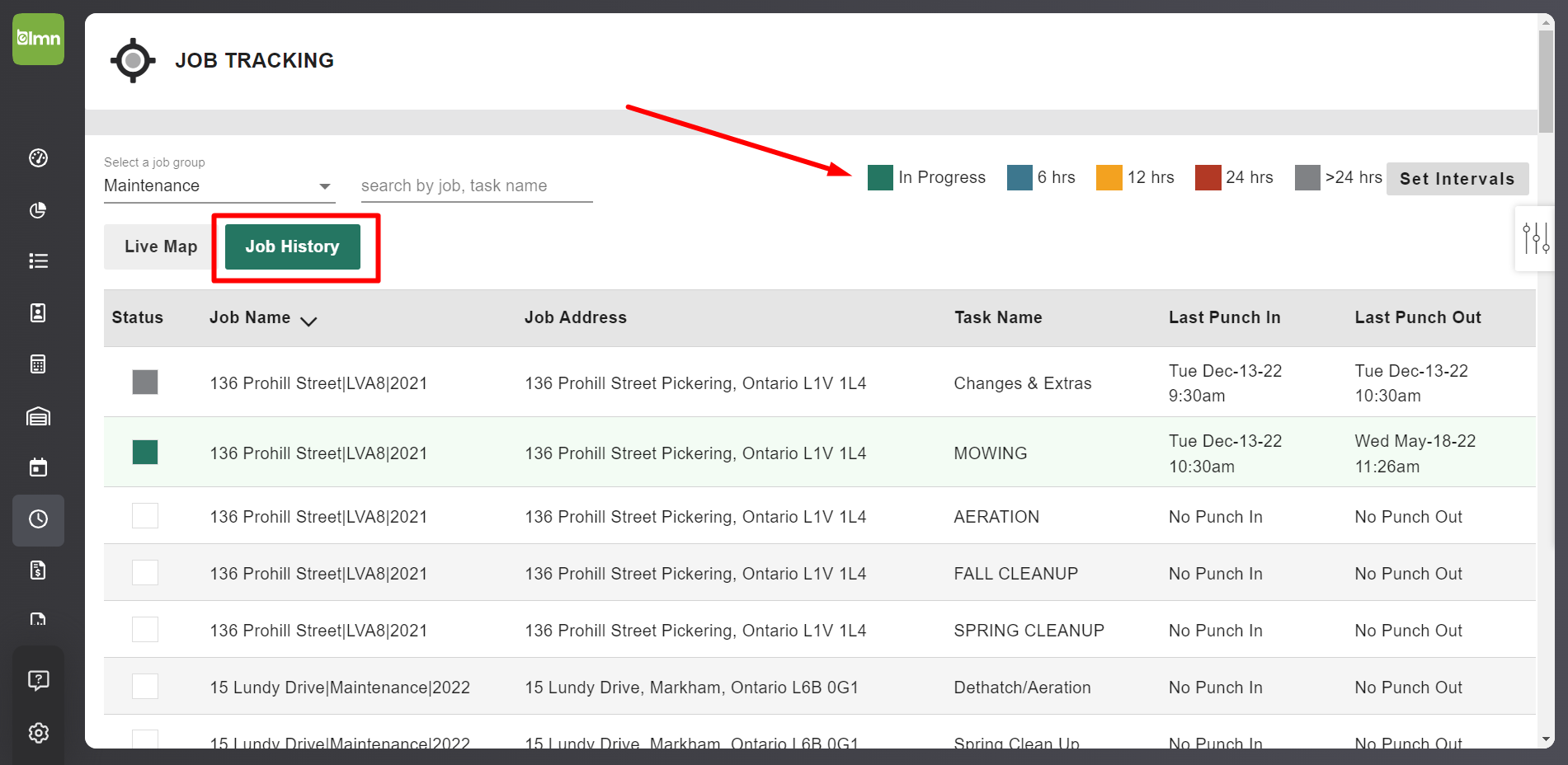 Crew Tracking
Similar to the Job Tracking, you will also be able to track where your crews have last punched into a job by map view and list view.
Under the Live Tracking tab on the left-hand menu, click the Crew Tracking tab
You can filter by Staff Group and see where they are Punched-in at job, Punched-in away from job and if the Crew location is not available.
To view by list, click on the Where Are They? button
This screen will allow you to filter by Staff Group
If your crew has location services turned on while punching in, you will be able to click on the map button to view the jobsite location and the crew location at the time they punched in and the distance from site when they punched in.
How To Enable Crew Tracking in the LMN Time App
LMN offers crew tracking in our Time Mobile App - It is a great way to keep track of your crew job/tasks and the duration of their time on site!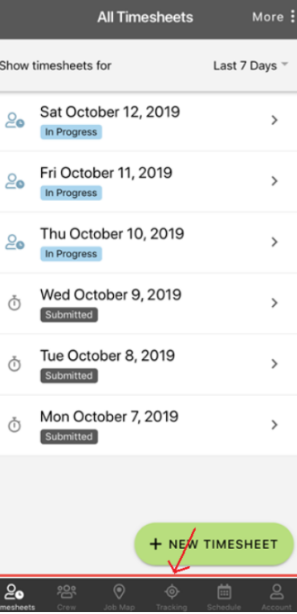 In order to enable tracking on the mobile Time App we need to ensure we have selected the correct settings in our LMN Account:
In your LMN account click on Settings > Users & Staff, and then select the Staff option
Click the staff member you wish to enable tracking for
Check off "Can Track Employees?" this will enable the tracking icon on your mobile Time App
After completing the above steps, your Crew Lead will be able to track employees in the LMN Time Mobile App.
If you require further assistance, please contact our Support Team via email at support@golmn.com or reach out to us through our Live Chats feature or by Phone: (888) 347-9864!