Within this article you will find all the Troubleshooting guides related to your CRM needs!
Select from the list below to jump to its spot within the article!
I CANT EMAIL OUT OF LMN'S CRM [CHROME & GMAIL]
For information on how to set your account to default to Gmail see Here
To Download a Mailto Extension:
The Chrome extension Mailto: offers the quickest way to set them as default handlers for mailto: links. It supports Outlook, Yahoo! Mail, FastMail, Zoho Mail, and AOL Mail right out of the box. If you use an email service that's not part of this set, you can still configure that service using the add another service option.
Open GOOGLE CHROME
Click on the 3 DOTS in the top right corner of your browser
Click on SETTINGS
Click on EXTENSIONS in the top left corner
Scroll down to the bottom of the page and click on GET MORE EXTENSIONS
In the top left corner, ENTER MAILTO for (email type)
DOWNLOAD the Extension
Add extension
Close your browser, clear your cache, go back into LMN and the email function in CRM will work
I CANT EMAIL OUT OF LMN'S CRM [FIREFOX]
In Firefox
Go to Firefox Options/Preferences > Applications and look for the mailto option under Content Type. The dropdown menu next to it is where you can specify which email program you want to use. It could be Gmail, Yahoo! Mail, or any other desktop email program such as Thunderbird or Microsoft Outlook.
For linking to a desktop client, you'll have to use the Use Other… option in the dropdown menu and navigate to your email program via Explorer (or via Finder, if you're on a Mac).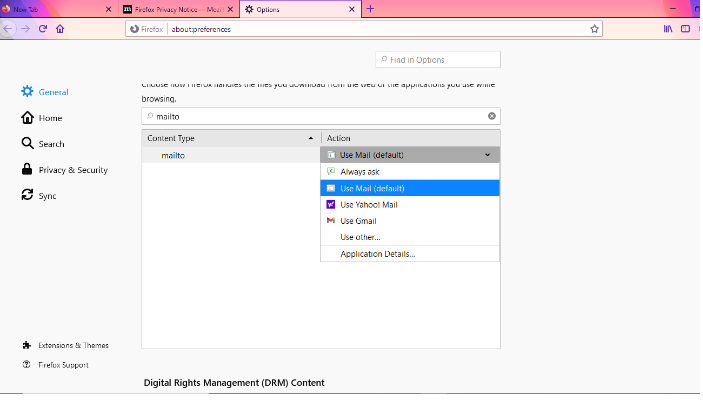 The mailto dropdown menu has a couple of other useful options:
Always Ask – To specify an email program a mailto: link on a case by case basis.
Use Chrome – To have mailto: links from Firefox open in Chrome. Of course, you'll just get a blank new tab in Chrome if you haven't configured Chrome first to open mailto:links.
Can't find your webmail service listed in the mailto dropdown menu? You need the MailtoWebmails add-on. It allows you to choose from various popular webmail services and configure any of them as the default handler for mailto: links in Firefox. If you can't find the webmail you use in that list either, don't worry. The add-on gives you the option to add it yourself.
MY EMAILS AREN'T SHOWING UP IN MY CRM COMMUNICATION HISTORY WHEN I BCC: crm@golmn.com
If your client emails aren't showing up in your CRM's communication history, this could happen for a number of valid reasons. Use the guide below to see if there might be a valid reason that your email didn't get automatically added to the CRM records.
Did you wait 5 min and refresh your lead? It may take up to 5 min for the email to go through the email servers and end up in LMN. Don't forget, you may also have to refresh your lead page if you've had it open.
Are you sure you BCC'd crm@golmn.com. Don't laugh... it's easy to forget.
Did you

send

the email from the same email you used for your LMN Account? You must send emails from the same address you used for your LMN account. We cannot sync emails sent from accounts that aren't registered to LMN users. After all, we can't track emails sent from non-LMN users!
Did you send the email to an address attached to the contact? It has to be sent to an email address assigned to one of your contacts.
Does this email address only belong to one contact or lead? If the email address has been assigned to multiple contacts/leads, we can't automatically add it to CRM - LMN wouldn't know which contact to add the email to.
Is the email EXACT? If the email has any differences in the CRM file compared to what is being entered in when emailing (i.e. capital letters etc.), this can cause the system to not register the email in the BCC function
I'M NOT RECEIVING EMAIL NOTIFICATIONS FOR TO-DOS
There are a couple of scenarios where you wouldn't get an email notification if a Lead is created and assigned to you, or when a todo is assigned to you or is changed.
You will not get email notifications if you create a ToDo and assign it to yourself. In this scenario the system assumes because you created it, you don't need an email as well.
Your email is not properly set up in your Account settings in LMN. Go to Settings -> Setup Users -> Click on your user and make sure the email address is valid.
Ensure your Notifications are checked off for the user you're assigning to. Please note that each user needs to set their own email notification preferences.
The ToDo has to be assigned to a lead (a contact in your CRM)
Ensure that "Send to Calendar" is selected after creating it by the assigned individual.
If you require further assistance, please contact our Support Team via email at support@golmn.com or reach out to us through our Live Chats feature or by Phone: (888) 347-9864!