Within this article you will have a comprehensive breakdown of the common LMN Estimating Troubleshooting resolutions!
Select from the list below to jump to its spot within the article!
Why can I only see my own estimates and not others?
There are 2 settings you have to be sure you've set correctly in order to view other users' estimates.
Setting 1: Security Permission to View Others' Estimates
Your user account must have permission to estimating set to Admin Access.
Default Access permission only allows estimators to view/edit their own estimates.
Note: Only the security admin on your company account can change/edit your security permissions.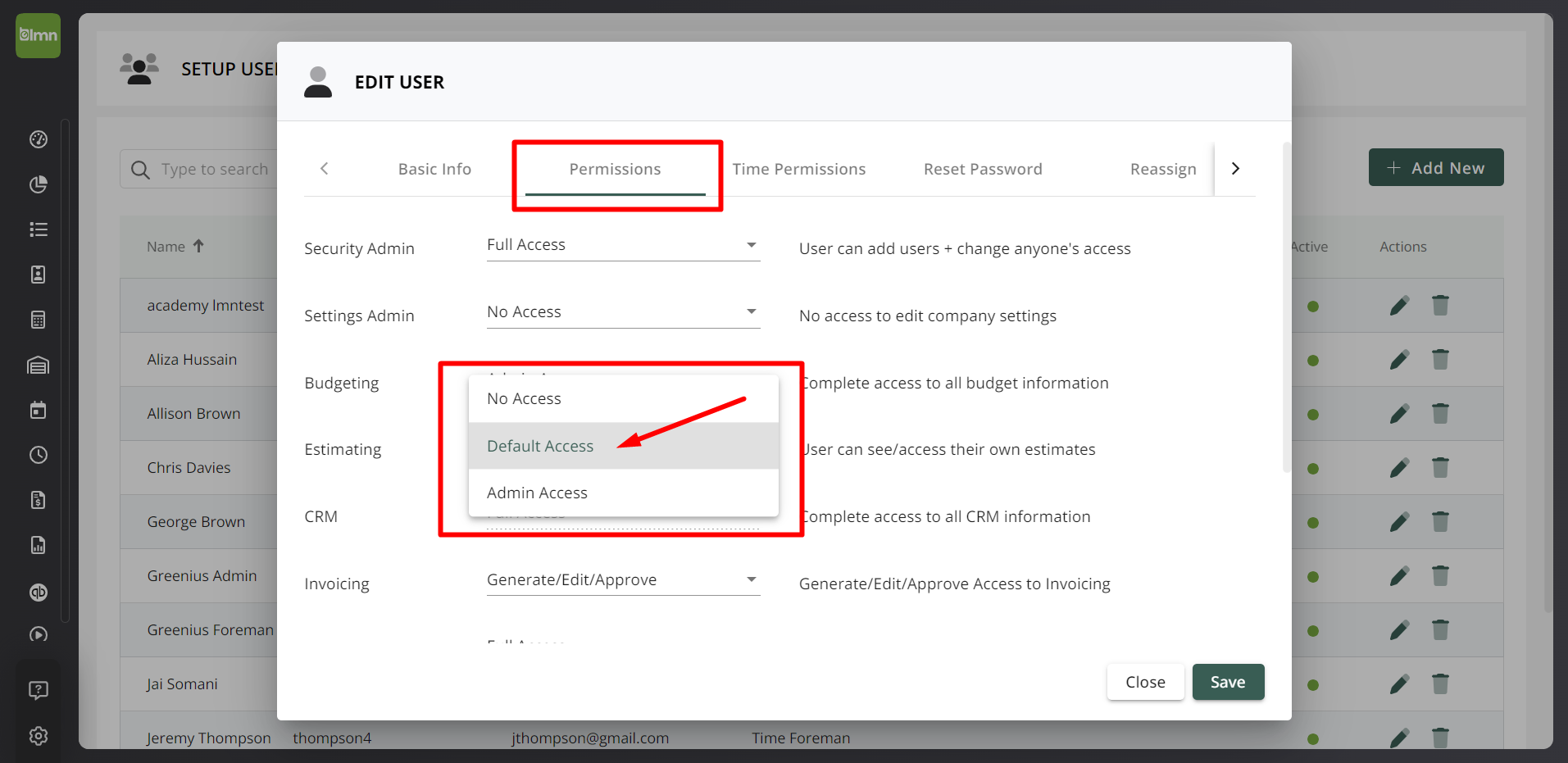 Setting 2: Estimate Screen Set to Show Me: All Company Estimates
On the list of estimates, you can choose whether you want to view just My Estimates or All Company Estimates. You will only see this option if you have the estimating security permission set to Company Administrator (step 1).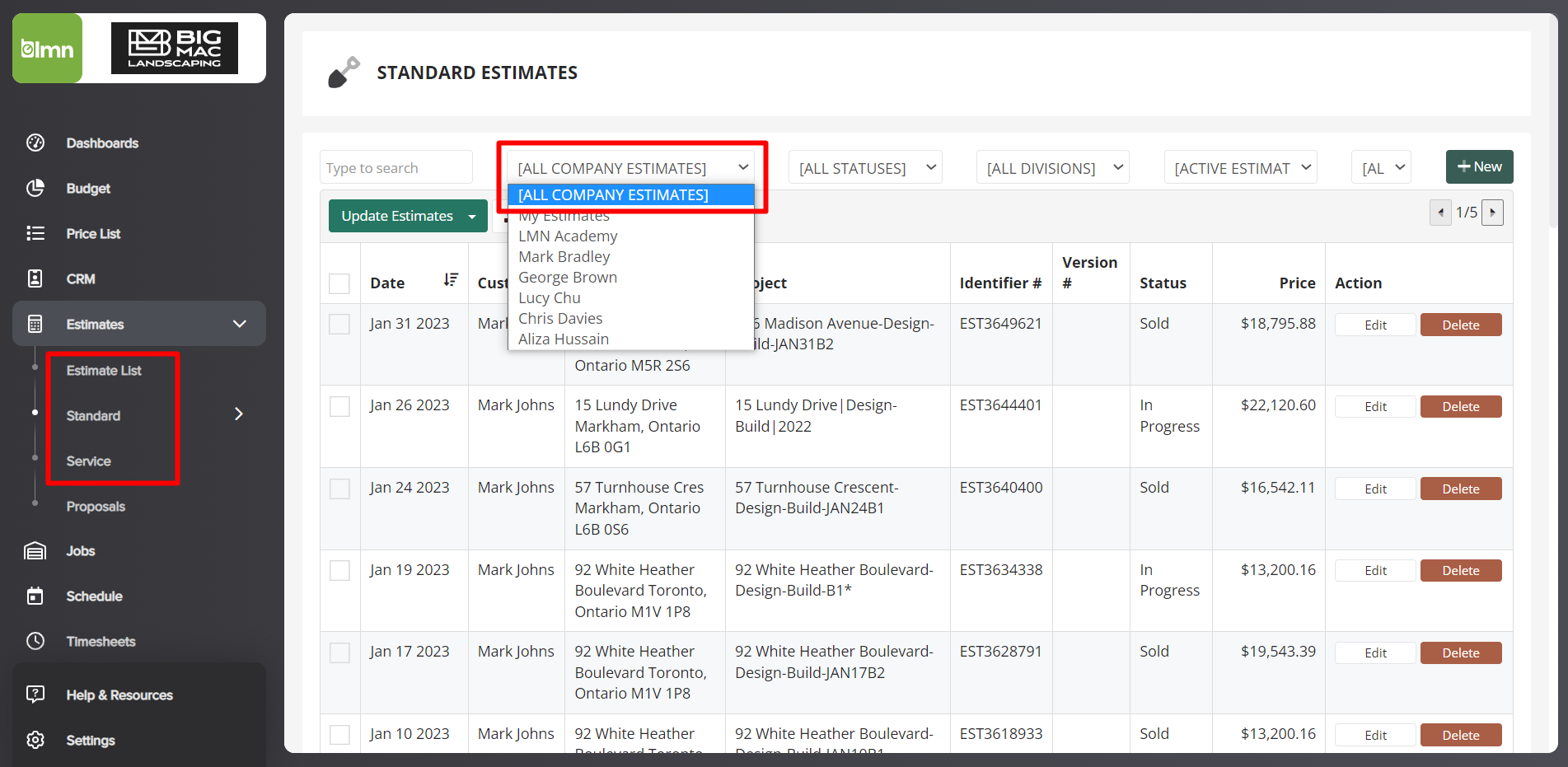 I Can't Find an Estimate in my Estimate List. Where is it?
There are a few common reasons users can't find a specific estimate.
Are you sure you're looking in the right list? (there are Standard Estimates and Service Estimates).
Are you sure you're looking at ALL COMPANY estimates and not just your own?
Do you have anything in the SEARCH box? Make sure your search box is blank (will search all) or that you are correctly spelling what you are searching for.
Are you filtering by Status? Make sure your status dropdown is set to [ALL STATUSES].
Has the estimate been archived? When you delete an estimate, the first (default) option is to just archive it. There's an Active and/or Archived estimates dropdown on the far right of the estimates list. Make sure it is set correctly.
Classic Reports Error: Your report could not be generated - Incorrect syntax near the keyword "and" or "="
This error occurs in the Classic Reports when you're trying to print a proposal and either all Work areas are on Hold or there is no pricing information in the estimate and only notes.
Option A: Certain Classic reports require pricing information before they can be run. For example, detailed pricing reports.
To fix this, simply go back to your estimate and make sure all Work areas are not on Hold, or that the estimate has at least 1 work area with pricing information.
Option B: Something to also look out for would be your Report Settings. This is required to run Classic Reports.**
To set this up - Go to Settings > My Settings > Report Settings and fill in all the details and click on Save Changes (at the top right corner).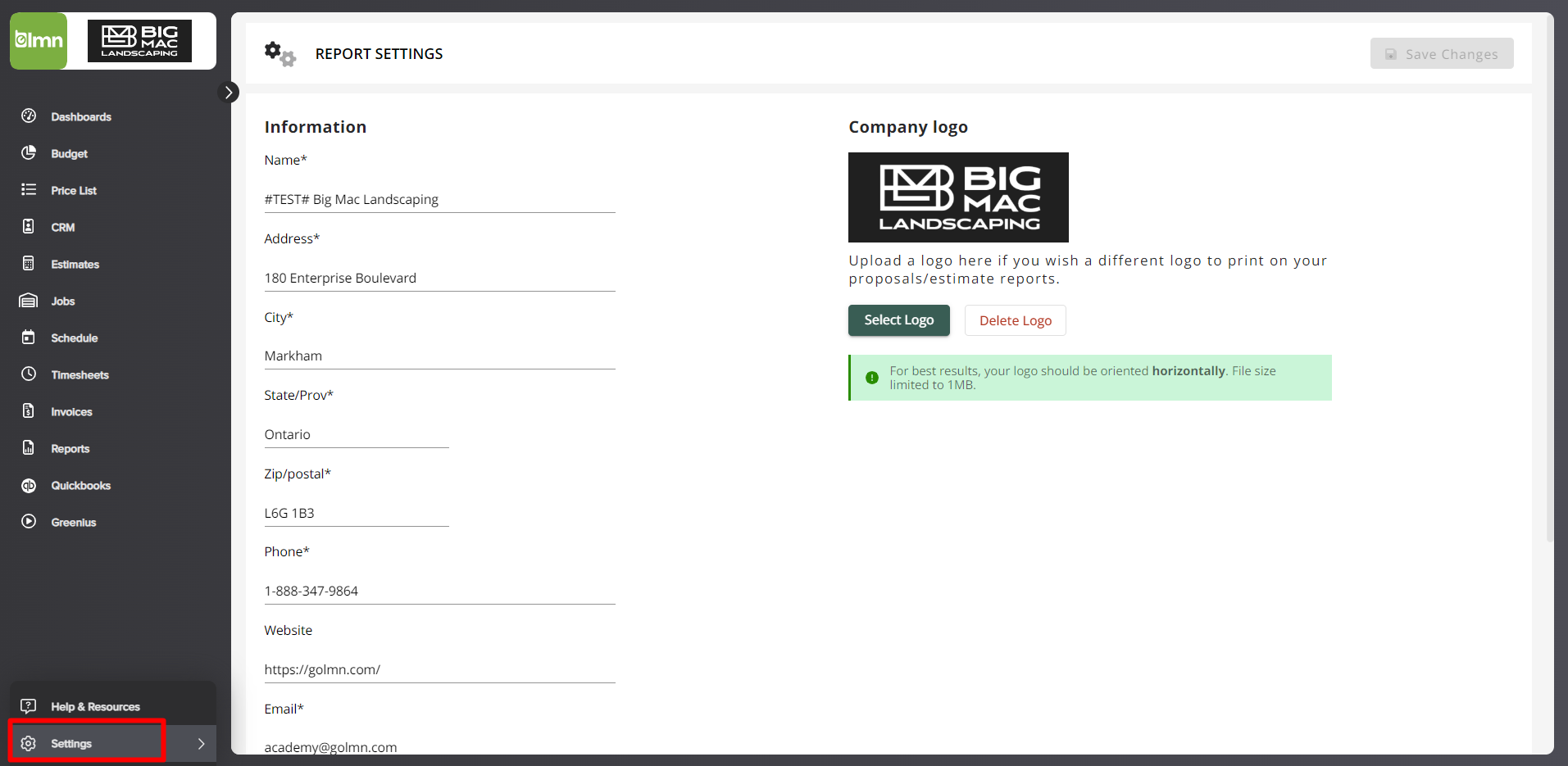 Classic Reports (Show Install Details) ERROR: "Your report could not be generated. The following error occurred: Invalid attempt to read when no data is present."

To fix this error, we recommend:
Opening a Notepad (type in "Notepad" in your Microsoft search bar)
Go into the Client Notes section of your Estimate:

Copy and paste each client notes section into the Notepad
Delete what is currently stored in your Client Notes
From the Notepad,

you would then copy and paste these notes and put it back into the Client Notes section of your estimate

. Ensure to click Save Changes. Following this step, keeps the formatting of the notes so that the LMN system recognizes it. Otherwise, if you copy and paste the notes from something such as a Word Doc, it can cause the error message to occur when generating the Classic Reports (Show Install Details).
Client Notes Section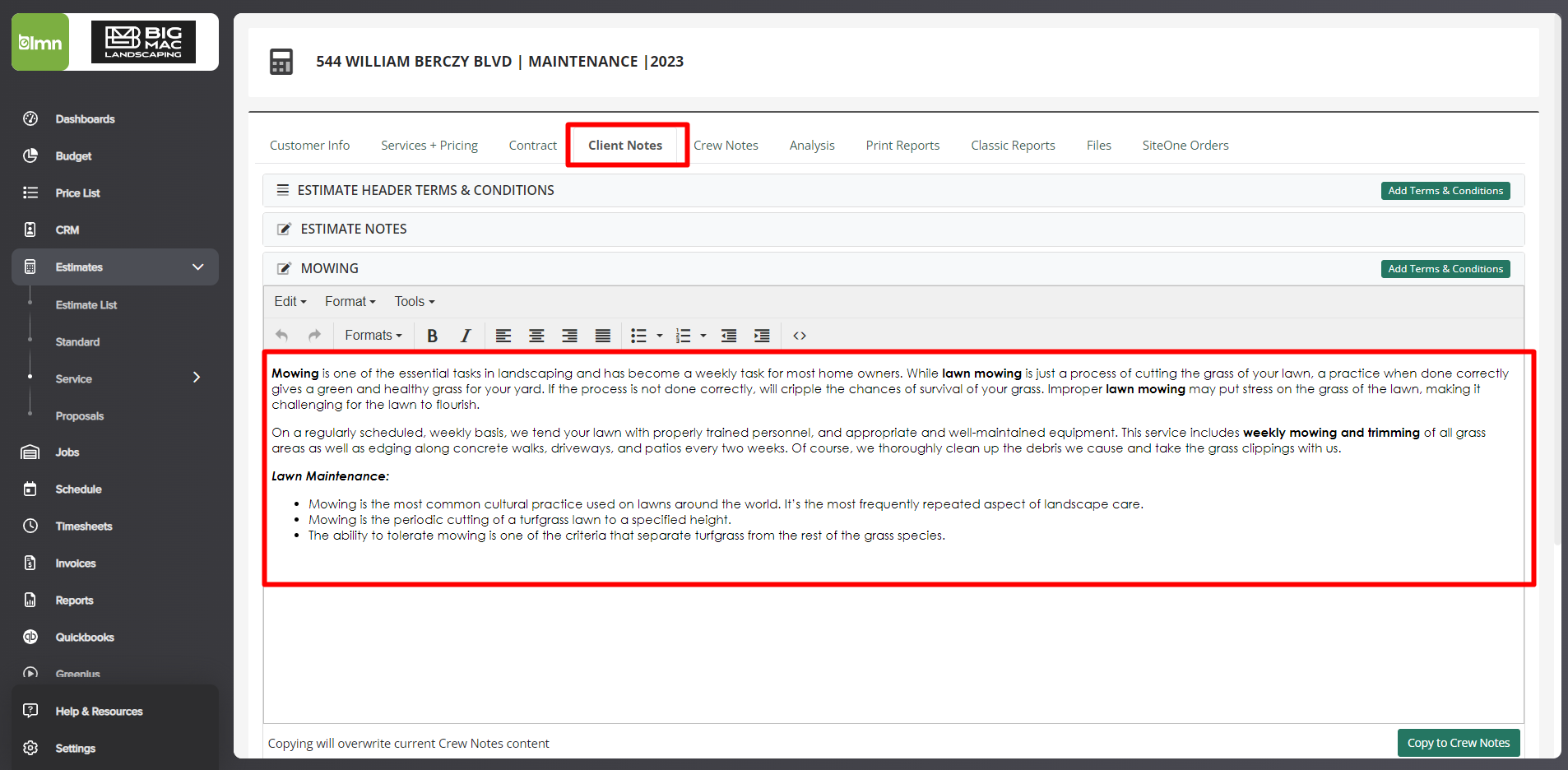 Notepad

Why isn't my logo showing on my estimates or proposals?
The following reason(s) may be the cause of this:
The Company Logo pulls from the Settings > My Settings > Report Settings of the Salesperson that is listed on the estimate.

Uploading a logo into your Settings > Report Settings is not a universal option across all of the company's accounts. This is intentional so that salespeople can have different logos because sometimes a company may have two different divisions so they may want two logos to be shown separately, one for the Snow division and another for the Lawn Care Division.

Therefore, if you are not the Salesperson for the estimate, you will need to make sure the dedicated Salesperson has uploaded the company's logo into their Report Settings so that it can be reflected when you preview your estimate or proposal.

In the tab Print Reports (before previewing your proposal/ estimate) > Header Options > ensure that Letterhead mode is NOT checked off (checking this option off will HIDE the logo)
The logo in the Company Information Settings is specifically for the Customer Portal, if you would like your company logo

to appear on the estimate or proposal

, ensure it is uploaded in the proper section of LMN which is Settings > My Settings > Report Settings
Why is the price on the estimate different from what I listed it as in the Price List ?
If the price on the estimate is different from what you listed it as in the price list, you will need to double check the following:
Did you add a custom profit?
Did you override the profit? (if you can see a blue revert arrow beside the profit, that means it has been adjusted)
If you edited the OHR Factor % from the "edit" area of your Budget/ Overhead Recovery , that will change the prices on the estimate as well

Check that the profit in the price list is the same as the profit on the estimate (refer to photos below):

check that the budget being used for your estimate is the same one for your price list/ catalogue; if your item from the price list is using a Profit Margin from the same Budget, there should not be a change
If there is a change, then a custom Profit Margin or custom Price has been applied
WITHIN THE ESTIMATE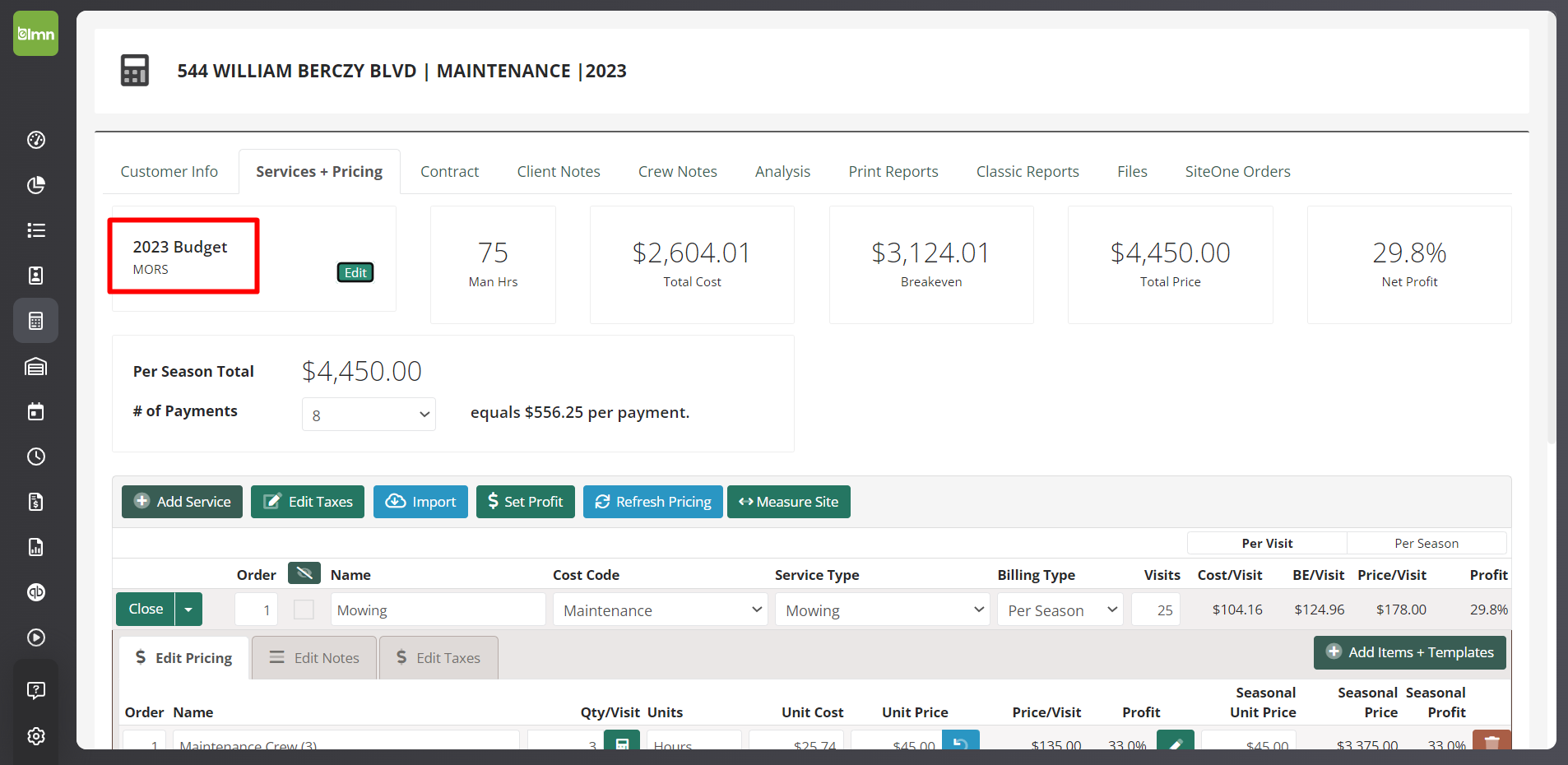 THE ITEM WITHIN THE PRICE LIST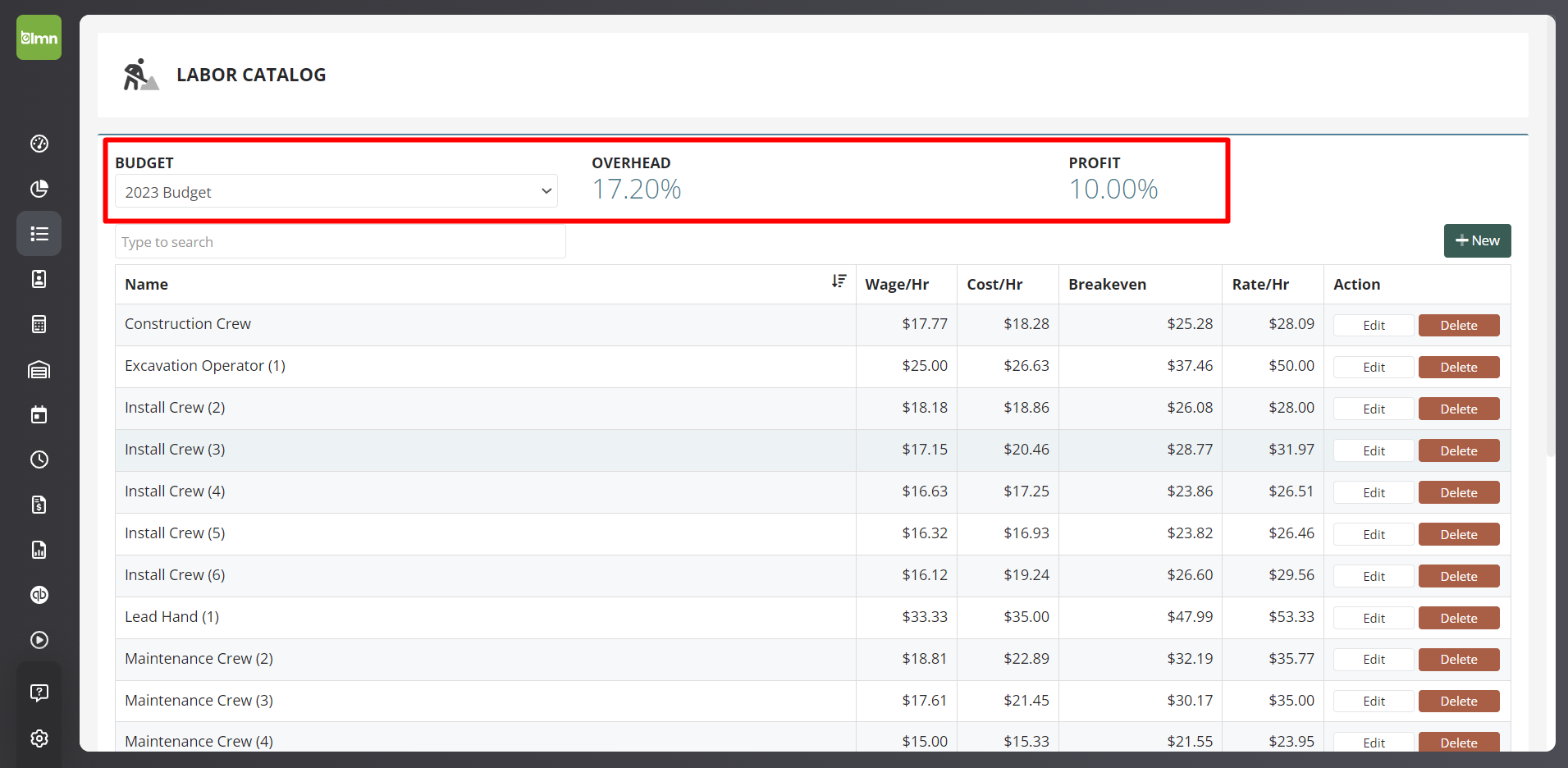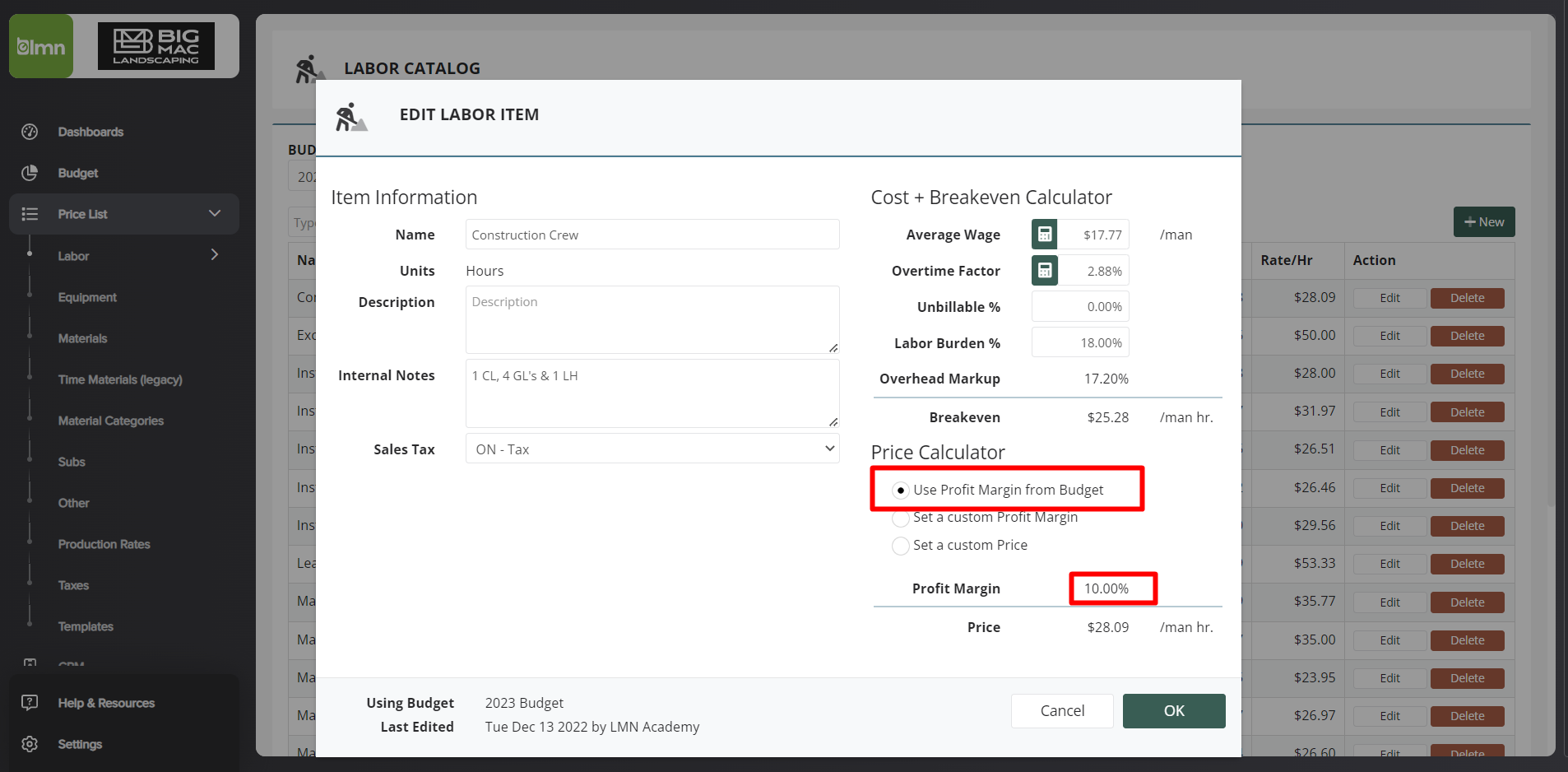 Print Report ERROR: "Object reference not set to an instance of an object"
When previewing your estimate under Print Reports, you may see the following error "Object reference not set to an instance of an object" due to these possible reasons: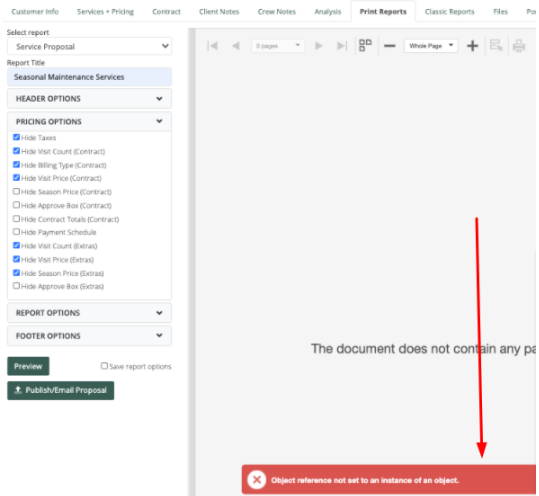 1) Check the estimate and ensure there isn't any line items with $0 amounts or incomplete fields within the work or service areas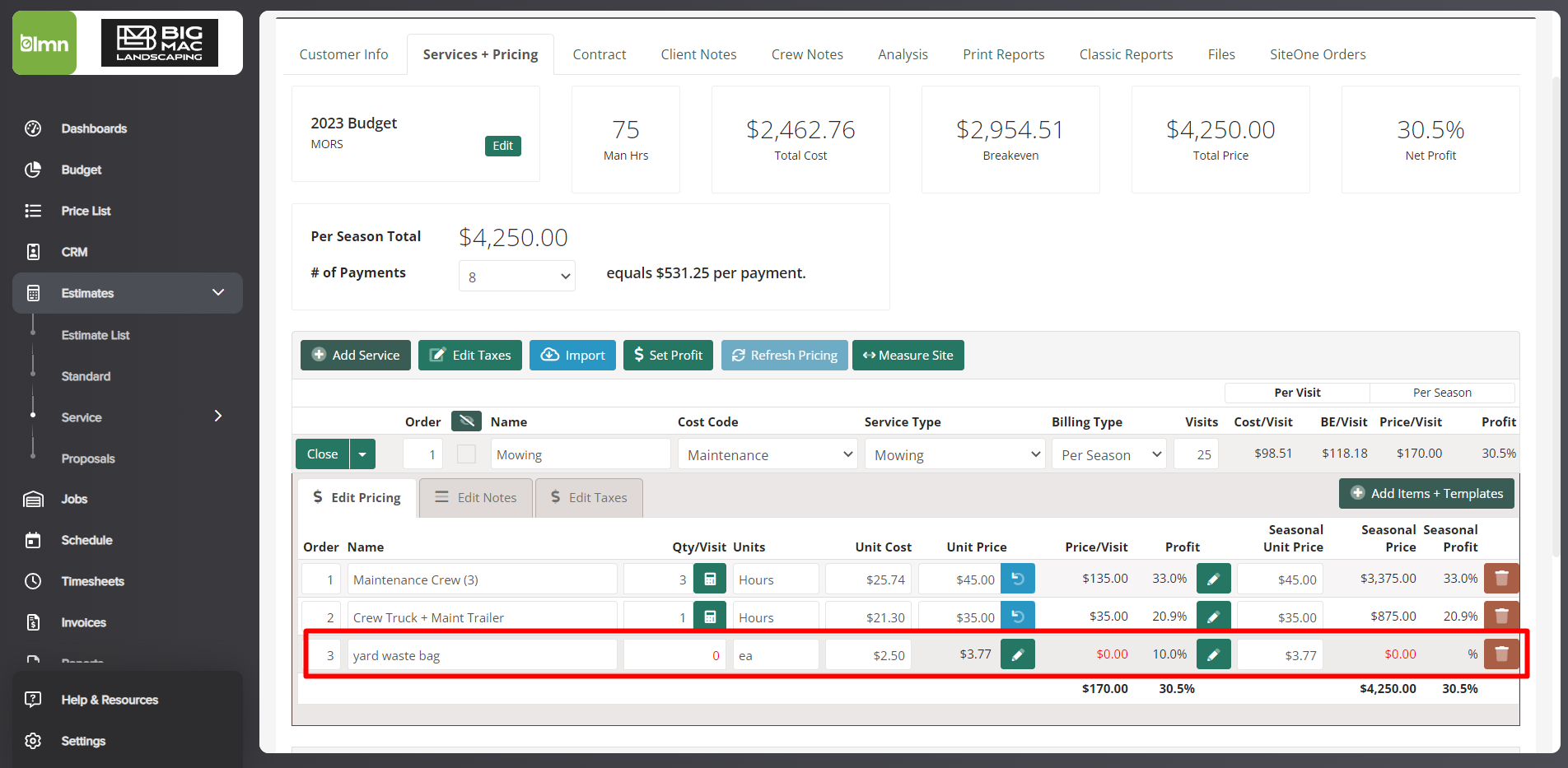 2) Check that the salesperson on the estimate has access to the Estimate and Budget section of LMN. The Super Admin or anyone with security permissions can check this for them by going to Settings > Users & Staff > LMN Users > click on the user's name > press on the Permissions tab > allow access to Estimating and Budgeting section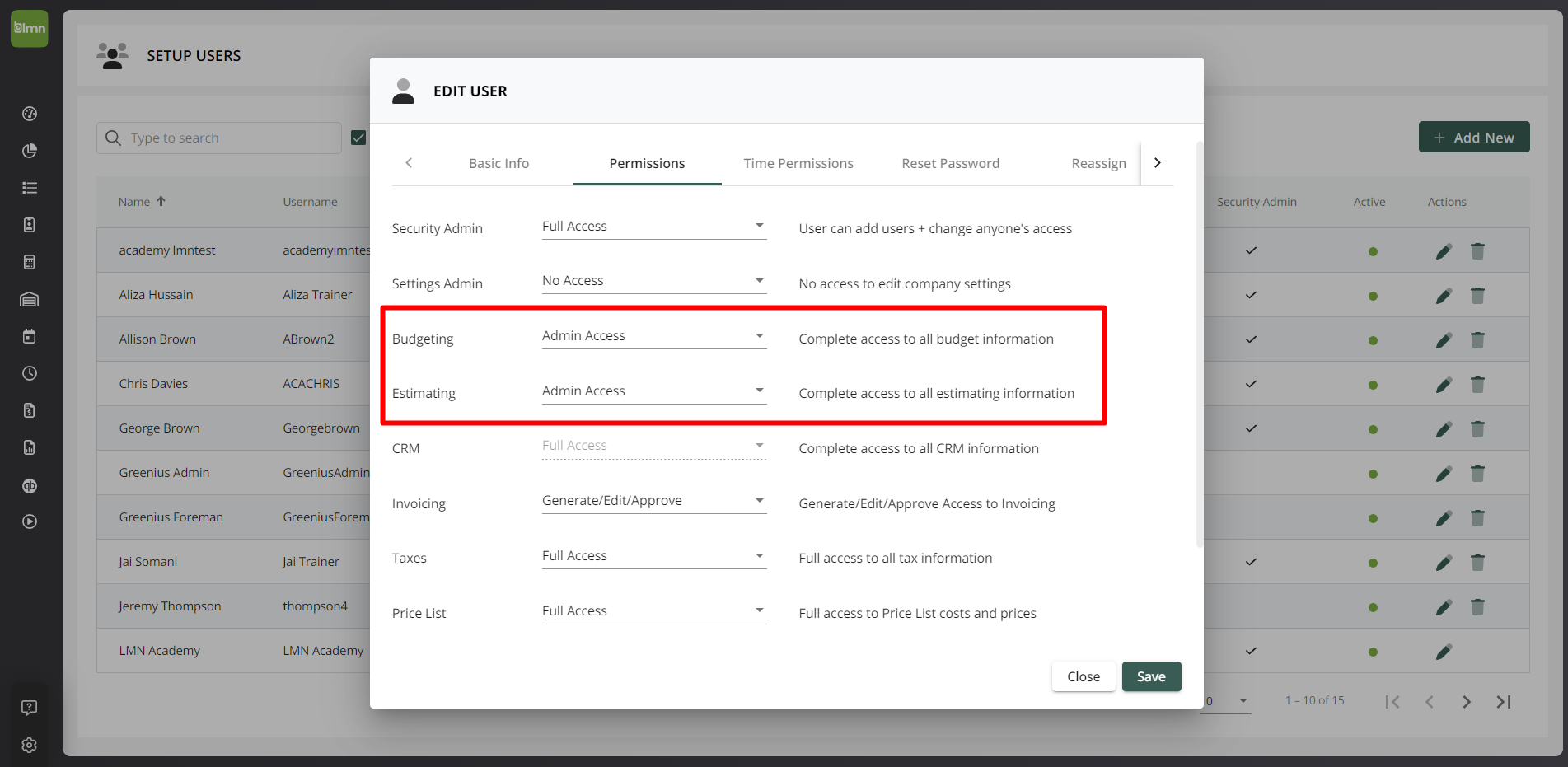 3) Settings > Estimate Settings (does the salesperson of the estimate have a default budget set up for Standard and Service Estimates in this settings section? If it appears blank, the error message may appear, please ensure a default budget is chosen)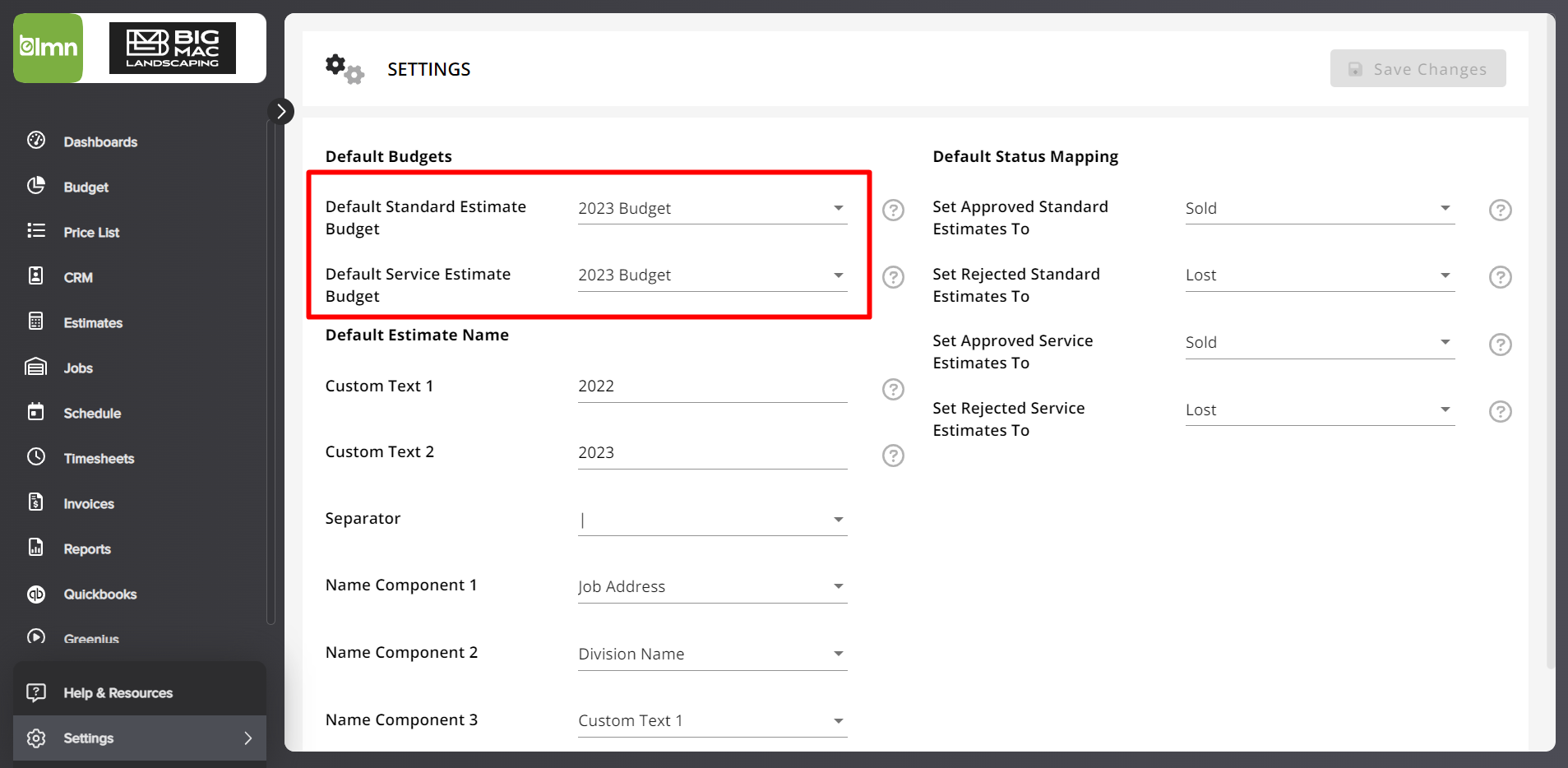 4) Also check Settings > My Settings > Report Settings (make sure that all fields are completed in this settings for the Salesperson listed on the estimate)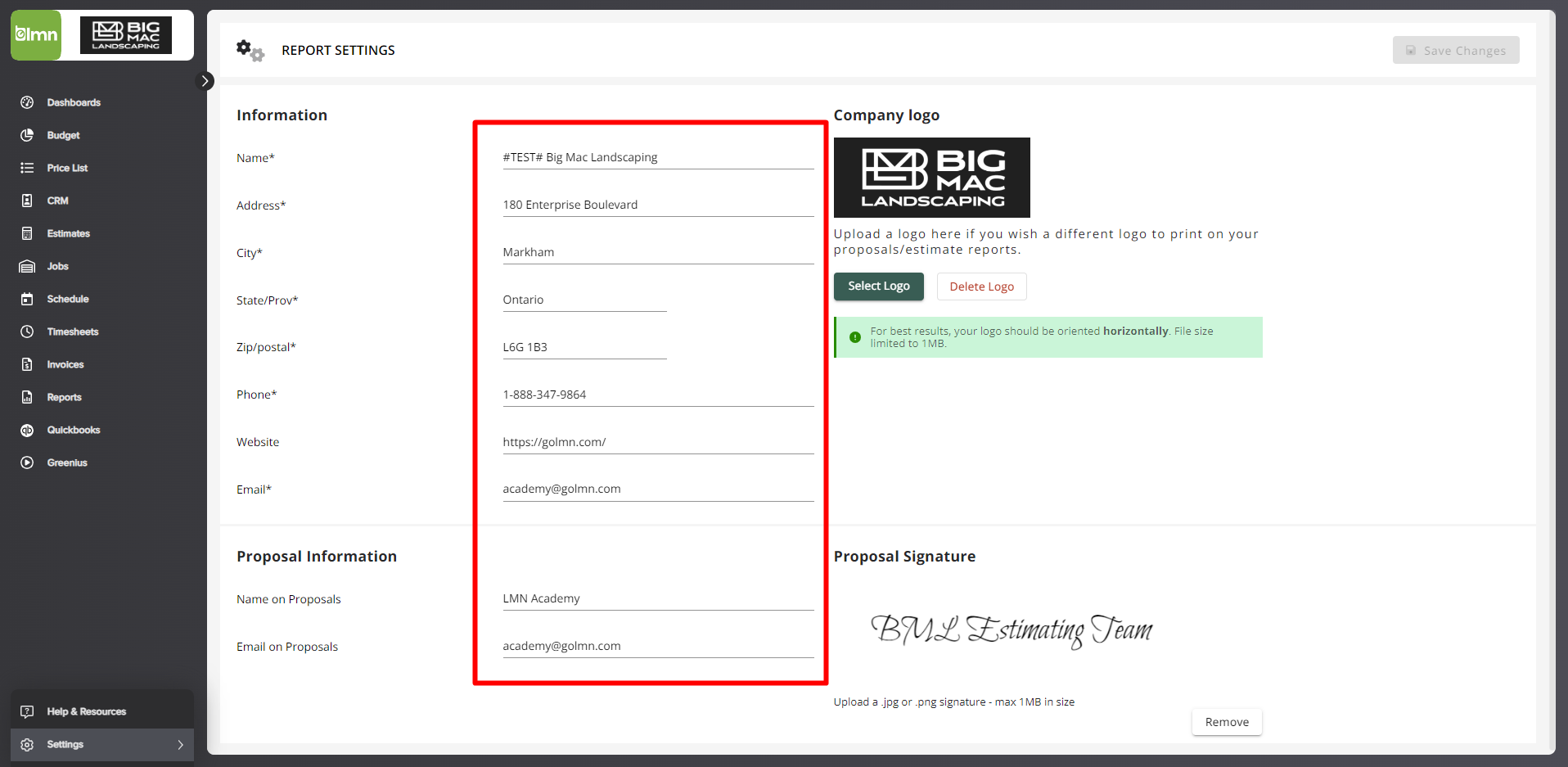 Misaligned Words in Terms & Conditions
If you are running into the issue with misaligned words or sentences (even when it seems aligned) when creating a PDF proposal it is due to the format and spacing issues. Generally, text that has been copy and pasted from another application into LMN creates this issue.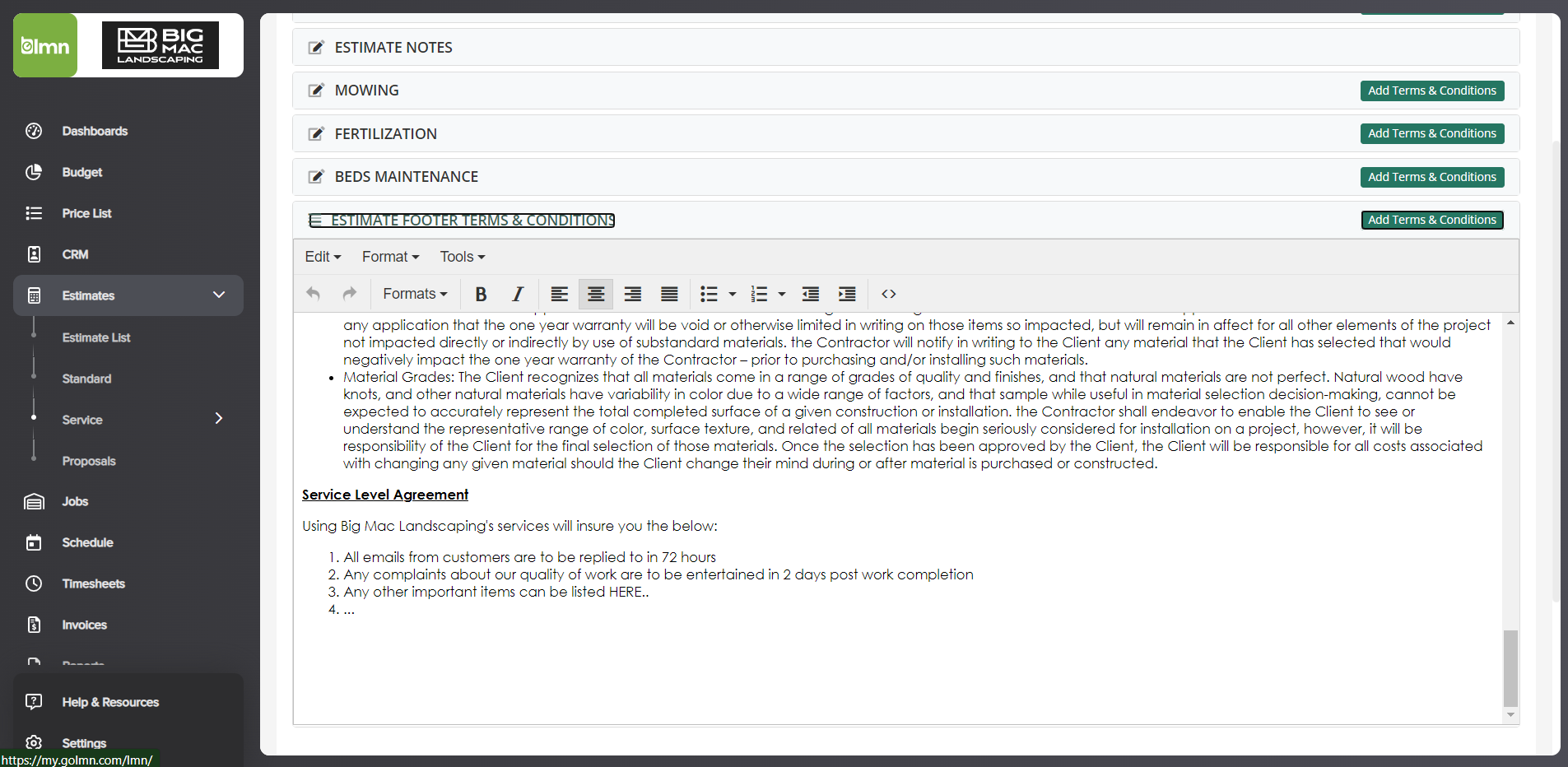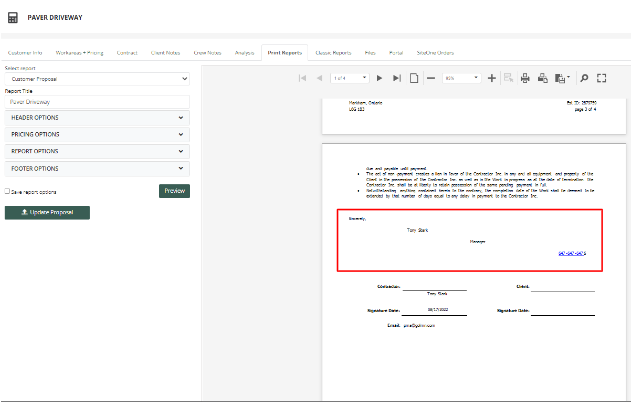 To correct this, simply copy the items that are misaligned and paste it into Notepad; Notepad will remove all previously applied custom formatting from other word processing applications such as Google Docs or Microsoft Word.


After the formatting has been pasted in Notepad and adjusted, you can now copy the text from notepad and paste it back into LMN to clear any prior formatting errors.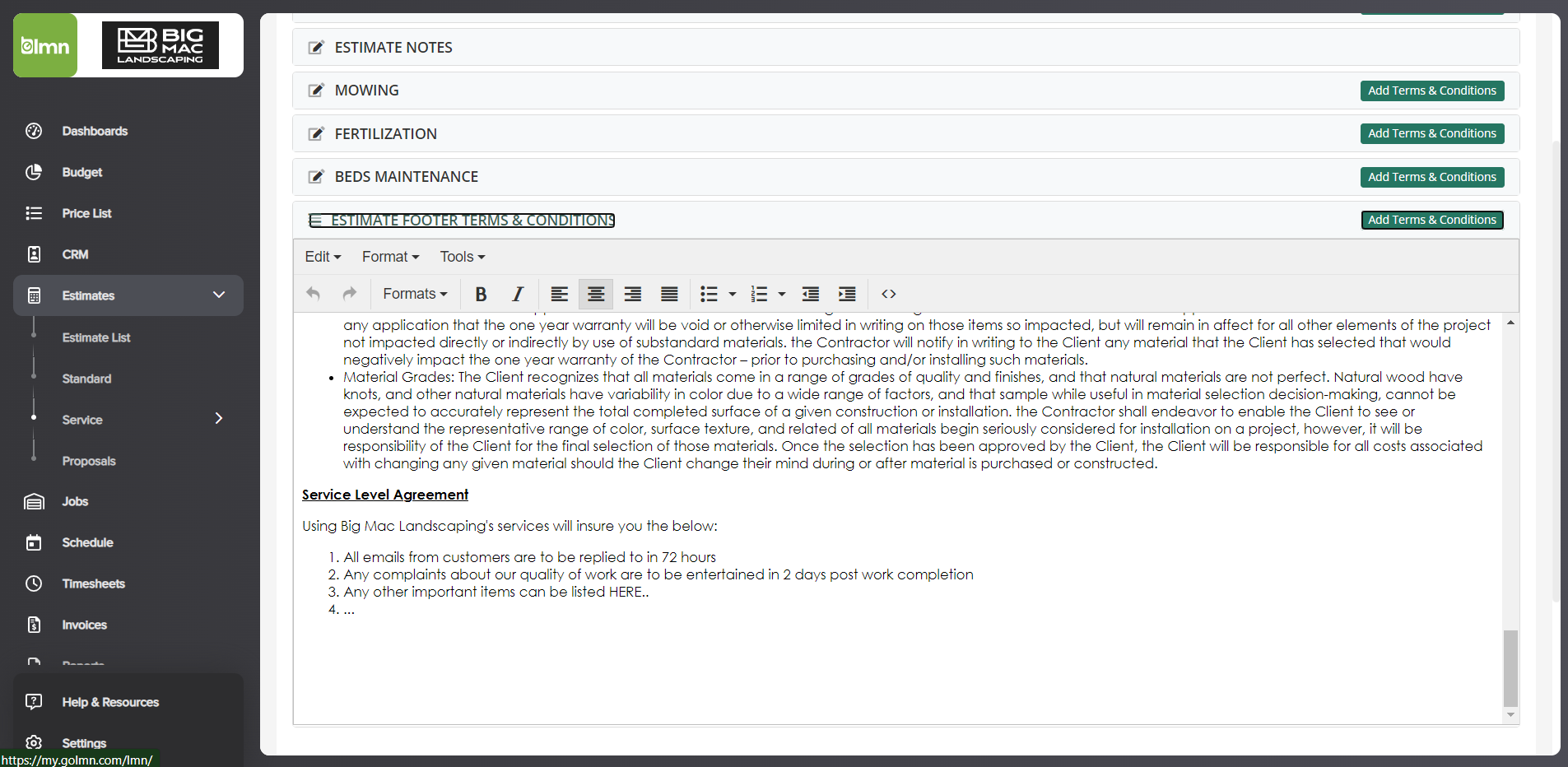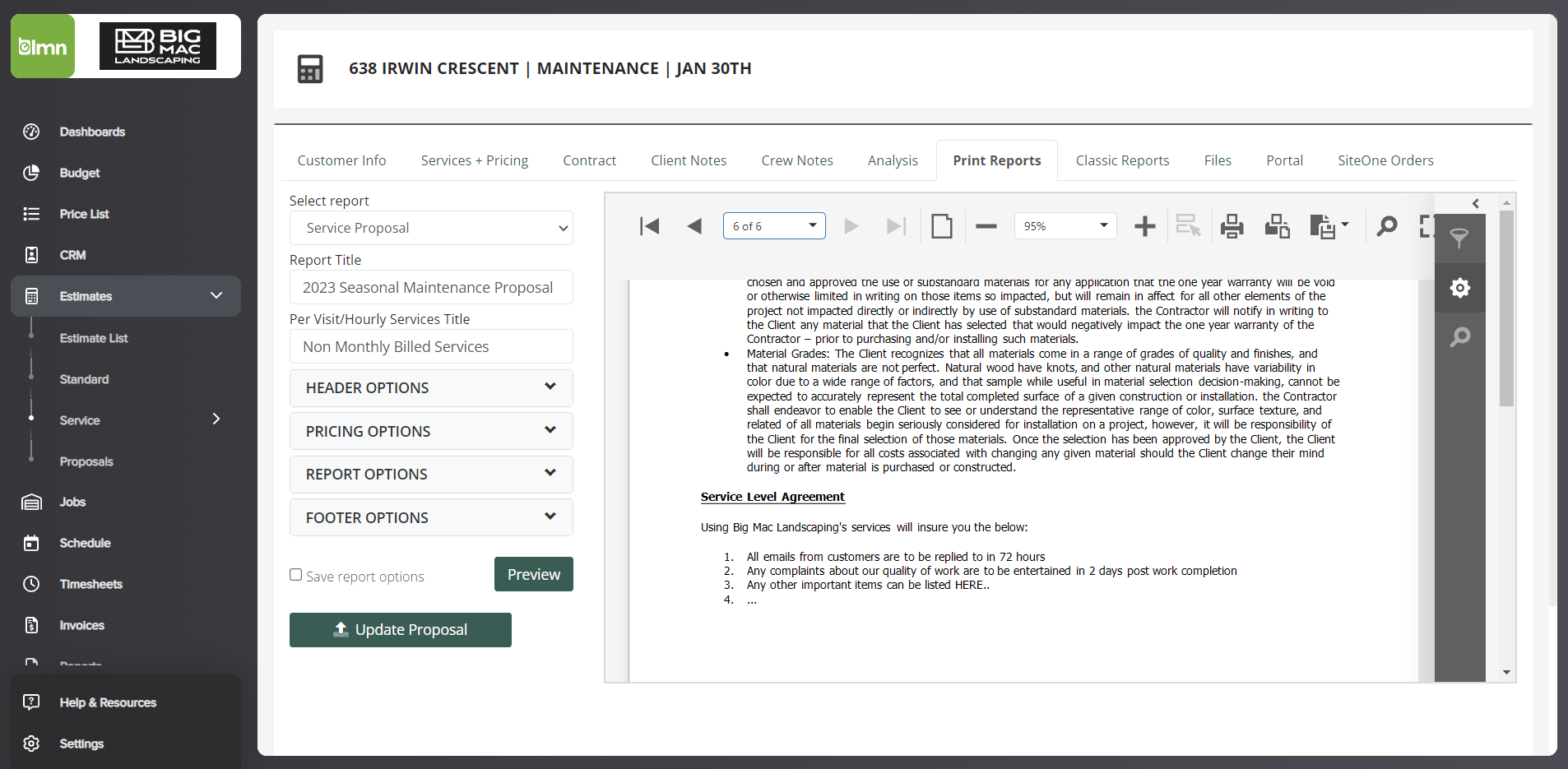 If you require further assistance, please contact our Support Team via email at support@golmn.com or reach out to us through our Live Chats feature or by Phone: (888) 347-9864!