In this article, you will find a comprehensive overview of LMN's latest release
April 11, 2023:
Email an Invoice Notification to any customer — even without a Merchant Account
Not quite ready for LMN Pay? As of this update, you can now send any customer an email letting them know that their invoice is ready to view.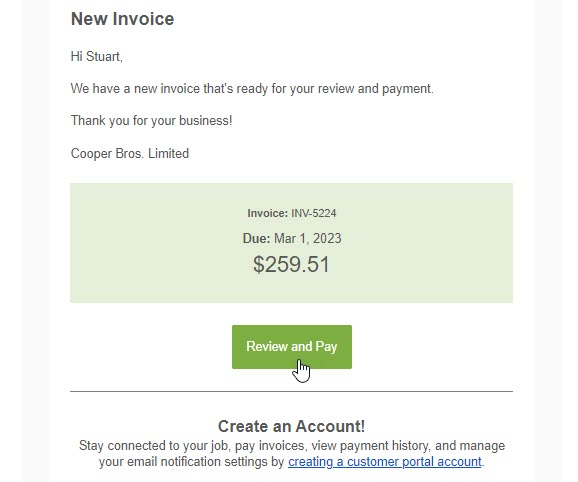 From this email, your customer will be able to:
Click 'Review and Pay' to be taken to a Customer Portal view of the Invoice in question. Similar to Proposals, this link will work whether the customer already has a Portal account or not.
Click a link that will take them to the account creation screen for your Customer Portal. (Note: This section of the email will only show for those customers who do not already have an account in your Portal.)
Over on the LMN side, you'll be able to see in the Portal Activity screen that the Invoice was successfully sent out:


**Note: Vendor Bills functionality within LMN is available only to Pro+ subscribers.
Add Files and Photos to a Vendor Bill in LMN
Now you can add some supporting evidence to your Vendor Bills by using our new Files tool. Acceptable files for upload include:
Images — useful for adding a photo of a paper receipt
PDF files — useful for adding invoices that have been scanned by your team, or sent to you digitally by your vendor
Files and photos can be uploaded to your bill (and managed) from the Add Vendor Bill Details screen: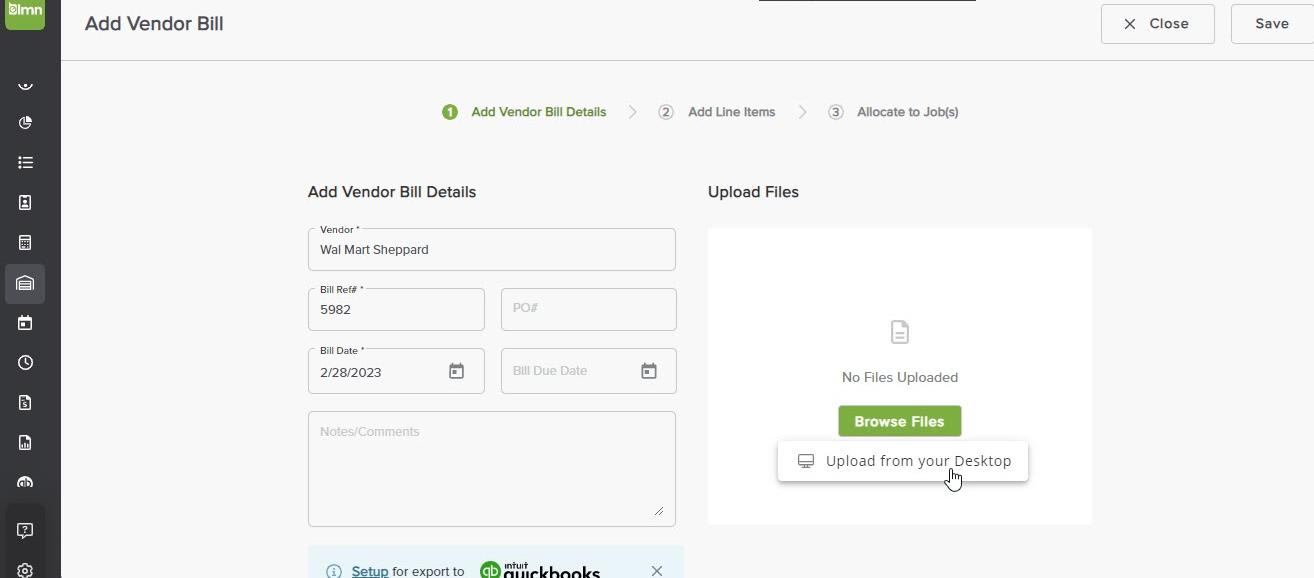 When you're working in the Add Line Items screen, you'll be able to refer to uploaded photos via an embedded viewer. If your team works with a lot of receipts, this should help you cut down on a fair bit of browser tab-switching: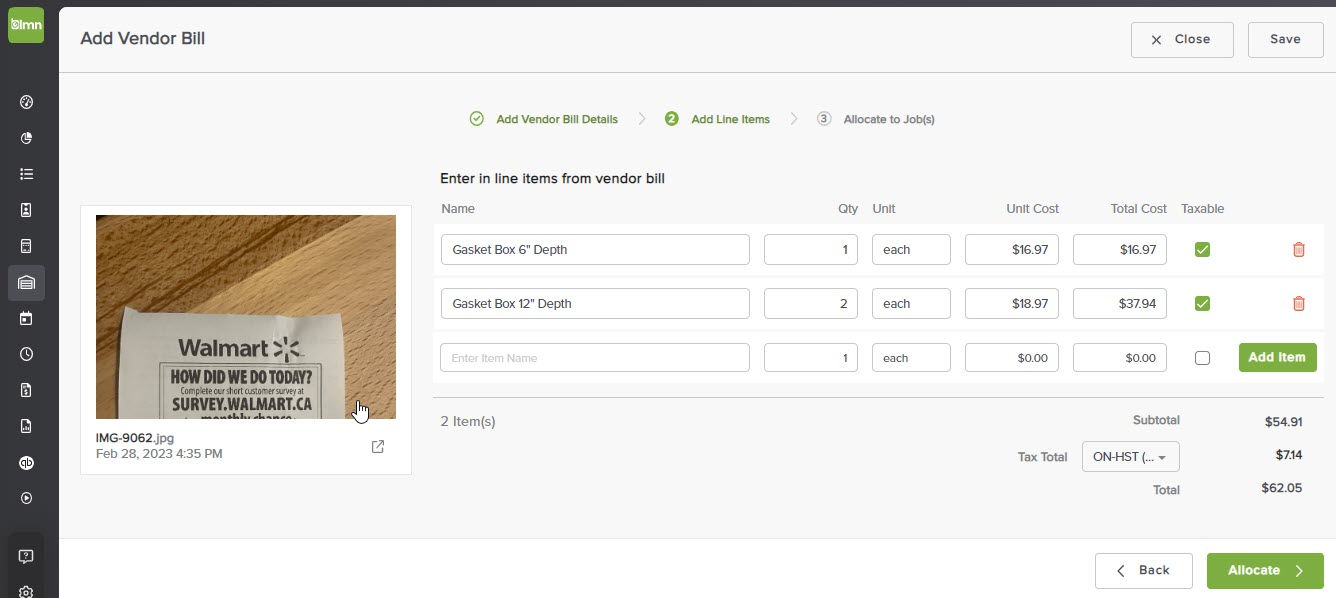 Export your Vendor Bills to QuickBooks Online via LMN Accounting
Want to start job costing with receipts or bills in LMN, but not interested in having to input those bills into two separate environments? We've got you covered. Just like Invoices and Estimates, the Vendor Bills you've entered into LMN can now be easily brought over into QuickBooks. (Please note that Vendor Bills functionality in LMN is available only to those accounts with Pro+ subscriptions.)
Start by Adding Bills to your QuickBooks Queue
Vendor Bills can be added to your QuickBooks Queue in a couple of ways:
From within the Edit page of a Vendor Bill itself, using the 'Queue' button found at top left; or,
From any Vendor Bills list. After checking off a selection of Bills, you will be able to bulk-queue them for QuickBooks export right from the list screen.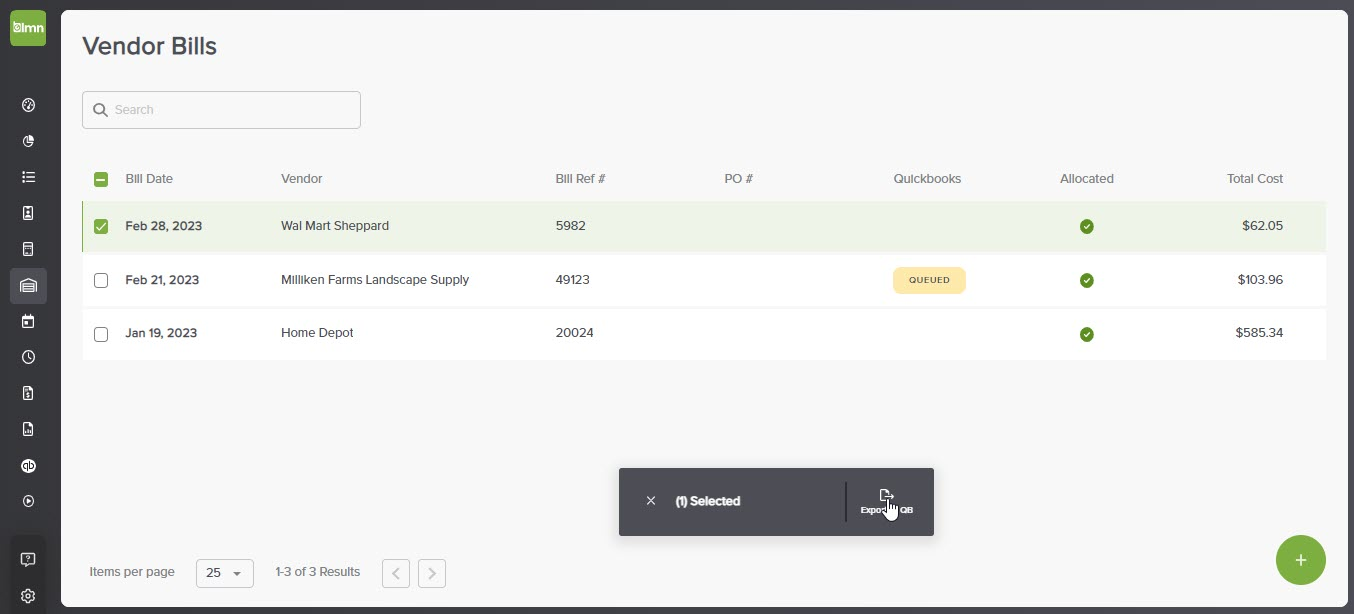 Set your preferred Vendor Bills Settings in LMN Accounting
Once you've queued up some Vendor Bills and headed over into LMN Accounting, the Vendor Bills Settings page should be your first stop. Here, you'll be able to indicate whether or not you want taxes to be ignored when exporting queued Vendor Bills into QuickBooks:
Match a Vendor and an Expense Account to each queued Vendor Bill
If the Vendor associated with your Vendor Bill in LMN text-matches any Vendors already existing in your QuickBooks account, LMN Accounting's Vendor Bills screen will suggest the match automatically. To revise a suggested Vendor match, just click on the 'Edit Match' button and you will be able to choose from the list of your existing vendors in QuickBooks.

If no match was detected by LMN Accounting, this Bill's Vendor dropdown will default to 'Create New Vendor.' From here, you can either:
Use 'Edit Match' to manually match the Bill to a QuickBooks Vendor from your account; or,
Proceed to Publish the queued Vendor Bill with 'Create New Vendor' selected. If you do so, LMN Accounting will create a new Vendor within your QuickBooks account, using the text from your LMN Vendor Bill's 'Vendor' field.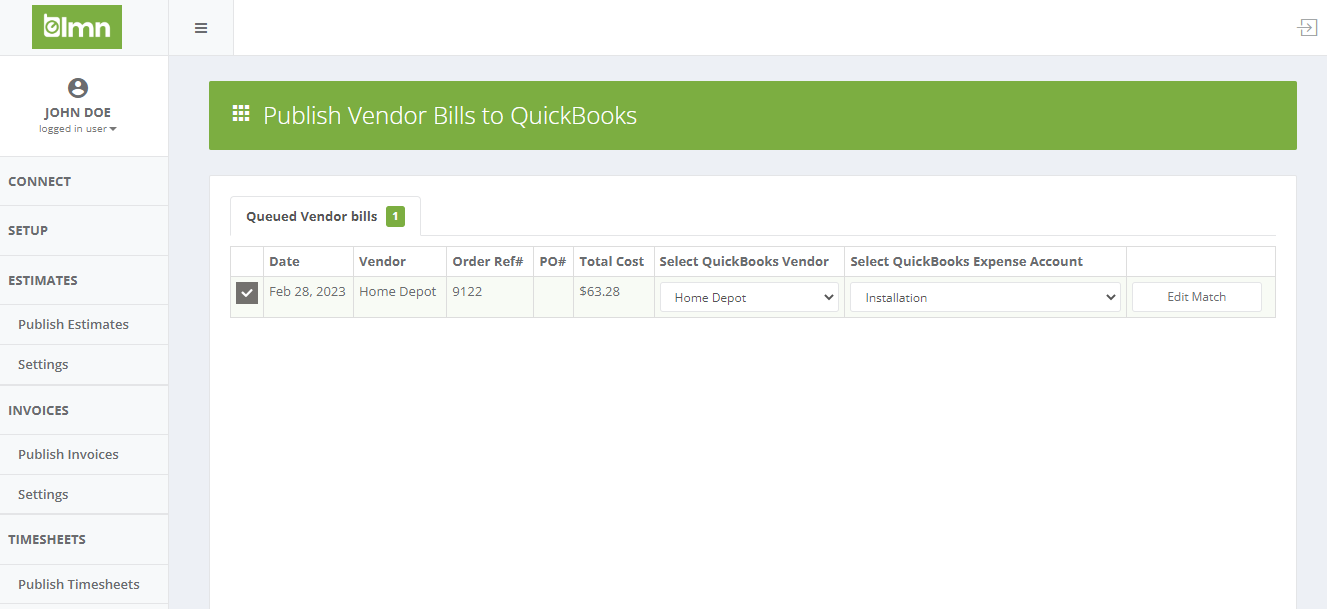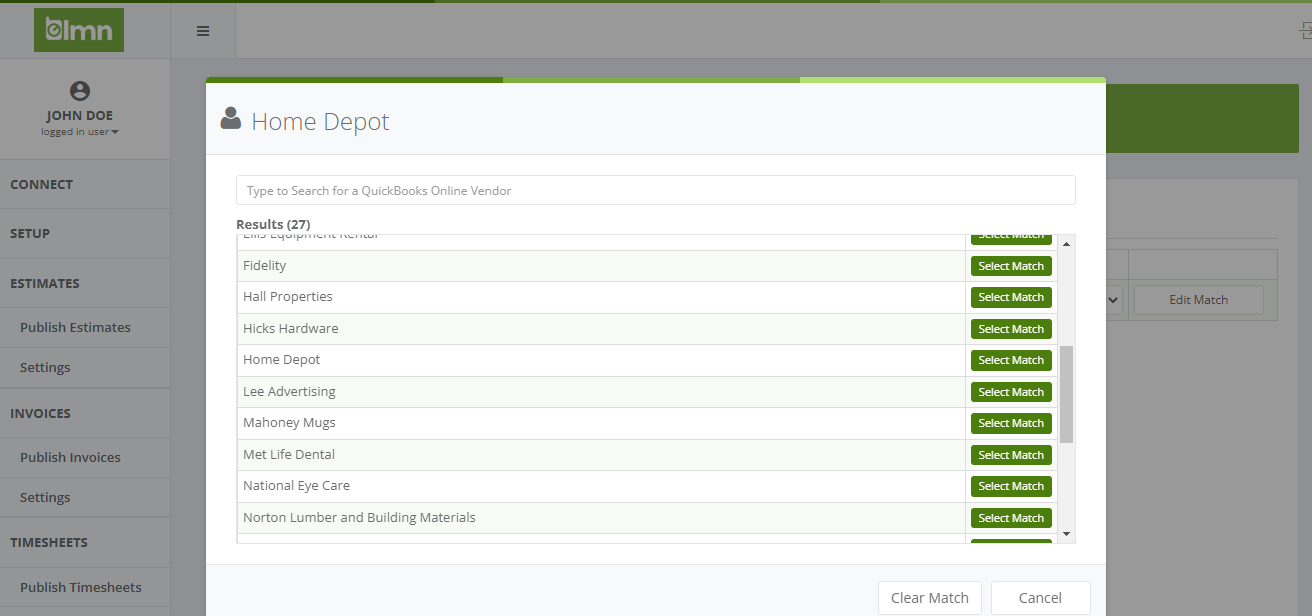 Publish your Vendor Bills to QuickBooks Online
Click the 'Publish' button, then use the Job Status screen to confirm that your Vendor Bill exports were successful. You're all done! Your Vendor Bills will now be viewable within your QuickBooks account.
Export your Vendor Bills to QuickBooks Desktop
You can also now use the LMN QuickBooks Sync program to export your LMN Vendor Bills into QuickBooks Desktop.

Before diving into QuickBooks Desktop, you'll want to first queue up some Vendor Bills within your LMN account (see above).
Start by matching your LMN Vendors to QuickBooks Vendors
Before bringing Vendor Bills over into QuickBooks Desktop, you'll need to create or match some vendors within QBD. The newest version of the LMN QuickBooks Sync program includes a 'Match Vendors' tool where you can:
Review a list of Vendors that Sync was able to pull in from your LMN CRM;
Match each Vendor to an existing Vendor within your QuickBooks Desktop instance; or,
If you don't already have a matching Vendor within QBD, you can click the 'Create' button to add one that matches the Vendor from CRM.
Adjust Your Vendor Bill Import Settings within QBD
Next, head over to the Sync program's new 'Import Vendor Bills' tool. At the top of this view, you'll find a dropdown selector that will let you toggle whether your queued bills will be imported as Account Based Expenses, or Item Based expenses.
Import your Queued Vendor Bills into QBD
On the 'Import Vendor Bills' screen you will also see a table containing any Vendor Bills you've queued in LMN. A 'Vendor' column that can be used for matching, and (if Account Based Expenses was selected), an Account column that can be used to match each Vendor Bill to an Account entity in QuickBooks.