This is a comprehensive breakdown of QuickBooks Desktop in addition to Frequently asked Questions for your convenience!
Select from the list below to jump to its spot within the article!
QuickBooks Desktop: Setup
QuickBooks Desktop: Most Commonly Asked Questions
QuickBooks Desktop: Uncommon Inquires
QuickBooks Desktop: Troubleshooting [General]
Installing the LMN QuickBooks Desktop Sync Tool
In this article, we'll cover how to install the LMN QuickBooks Desktop Sync Tool on your local machine. Users must be setup with Accounting permissions in LMN in order to sync to QuickBooks. This application is required to create a connection between your LMN database and the server or computer that hosts your QuickBooks file.
Note: Before installing on machine, close down QuickBooks entirely (also restart computer)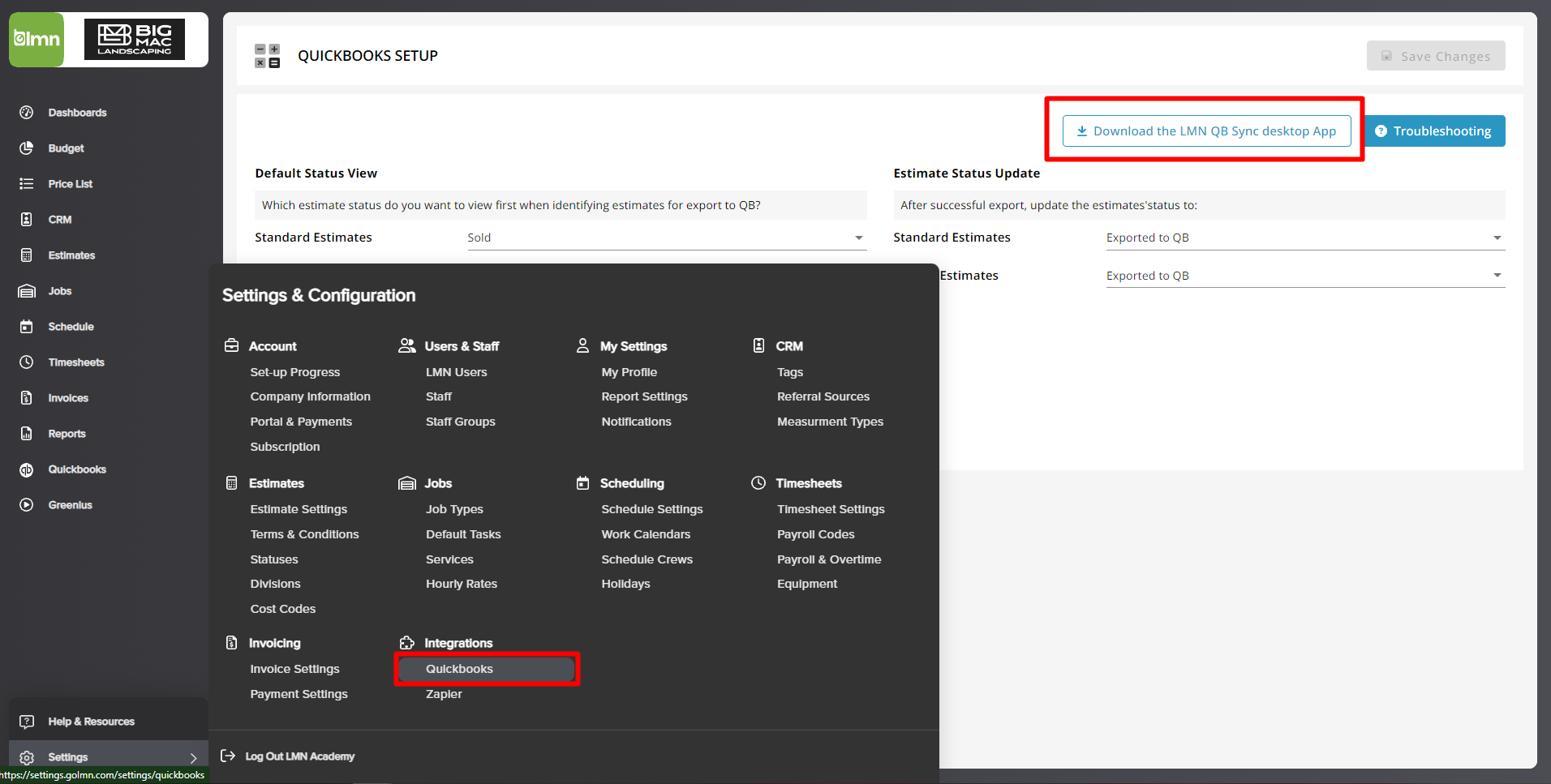 Go to Settings (Top) > QuickBooks tab > Setup > click the link to download
Complete QuickBooks Desktop Sync Setup Guide (PDF)
This is a setup guide designed to get your LMN account synced with your QuickBooks Desktop company file as quickly and easily as possible. It is recommended to print off the PDF and move through each task 1-by-1 for the best learning experience.
QuickBooks Sync Tool Setup Guide PDF
Step 6 - Payment Settings setup
For users setting up the sync tool to export Estimates, Invoices, and Timesheets but not Payments, the complete setup of Step 6 is required.
Step 1: Complete Steps 1-5, then Step 6 - to match Cost Codes, Classes (if applicable), Staff, Payroll Items, and Payment Methods/ Settings.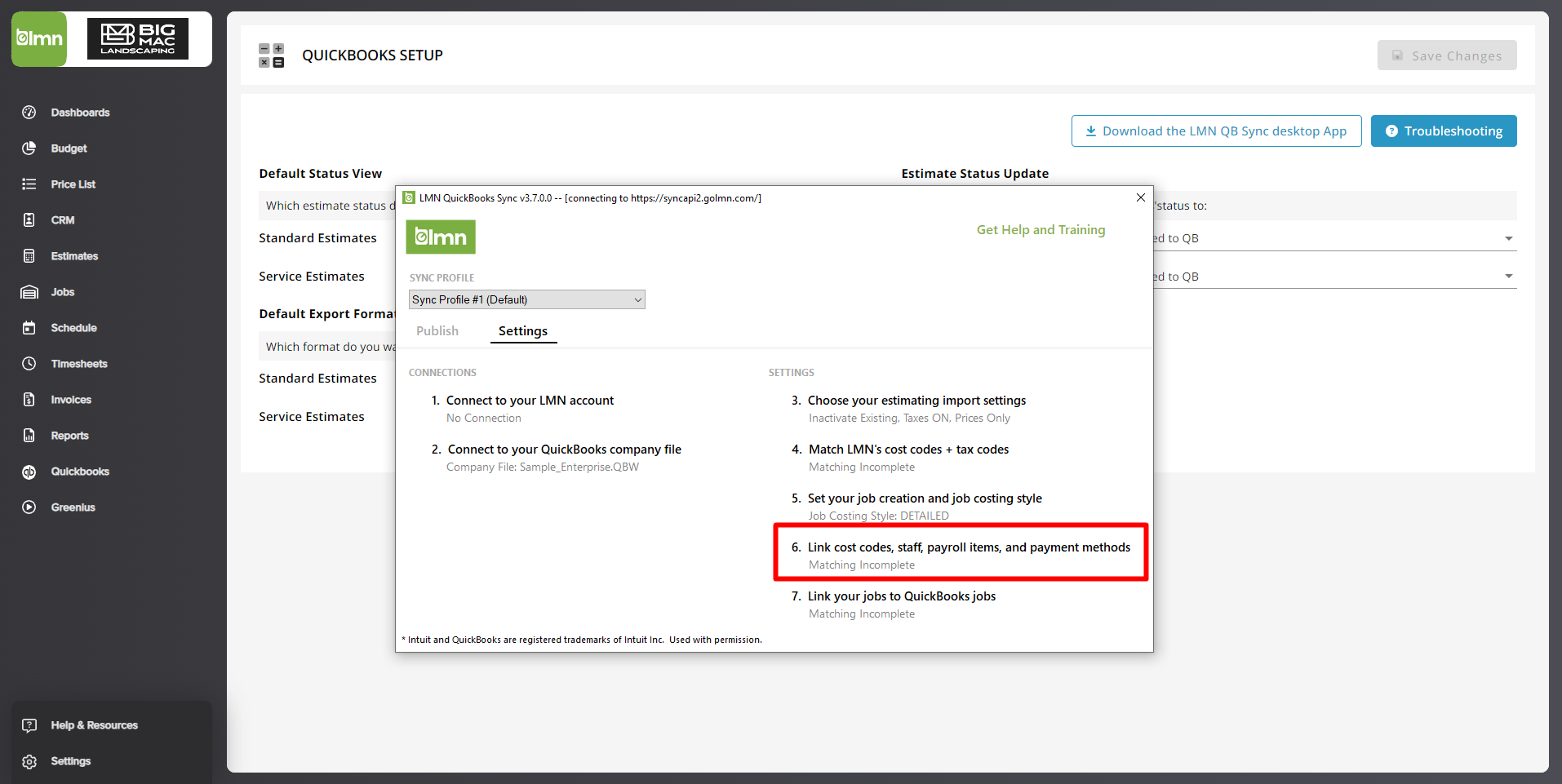 Step 2: Choose Payment Settings - simply match a Deposit Account and an Account Receivables (A/R) in order to successfully complete the sync setup.
In future should you decide to export Payments, this portion of this step will be complete, however, you will need to add/ match Payment Methods in order to export Payments.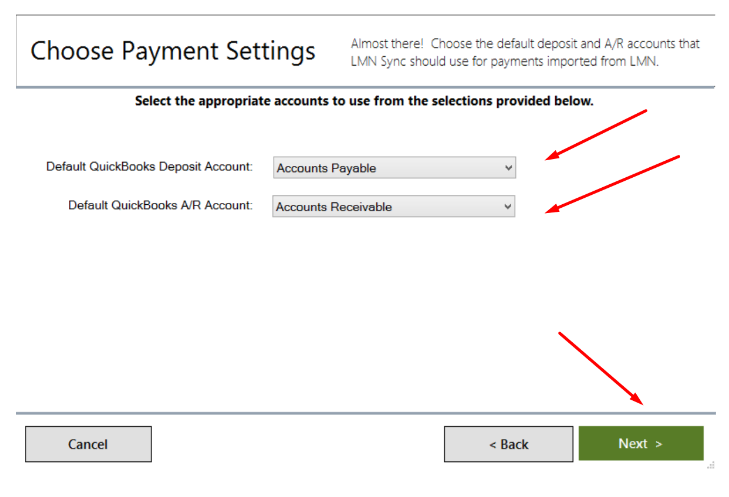 Publishing Estimates to QuickBooks (Summary vs Detailed)
When publishing Estimates from LMN to QuickBooks there are some differences between the Summary vs Detailed options.
Pictured below is an example of a Service Estimate: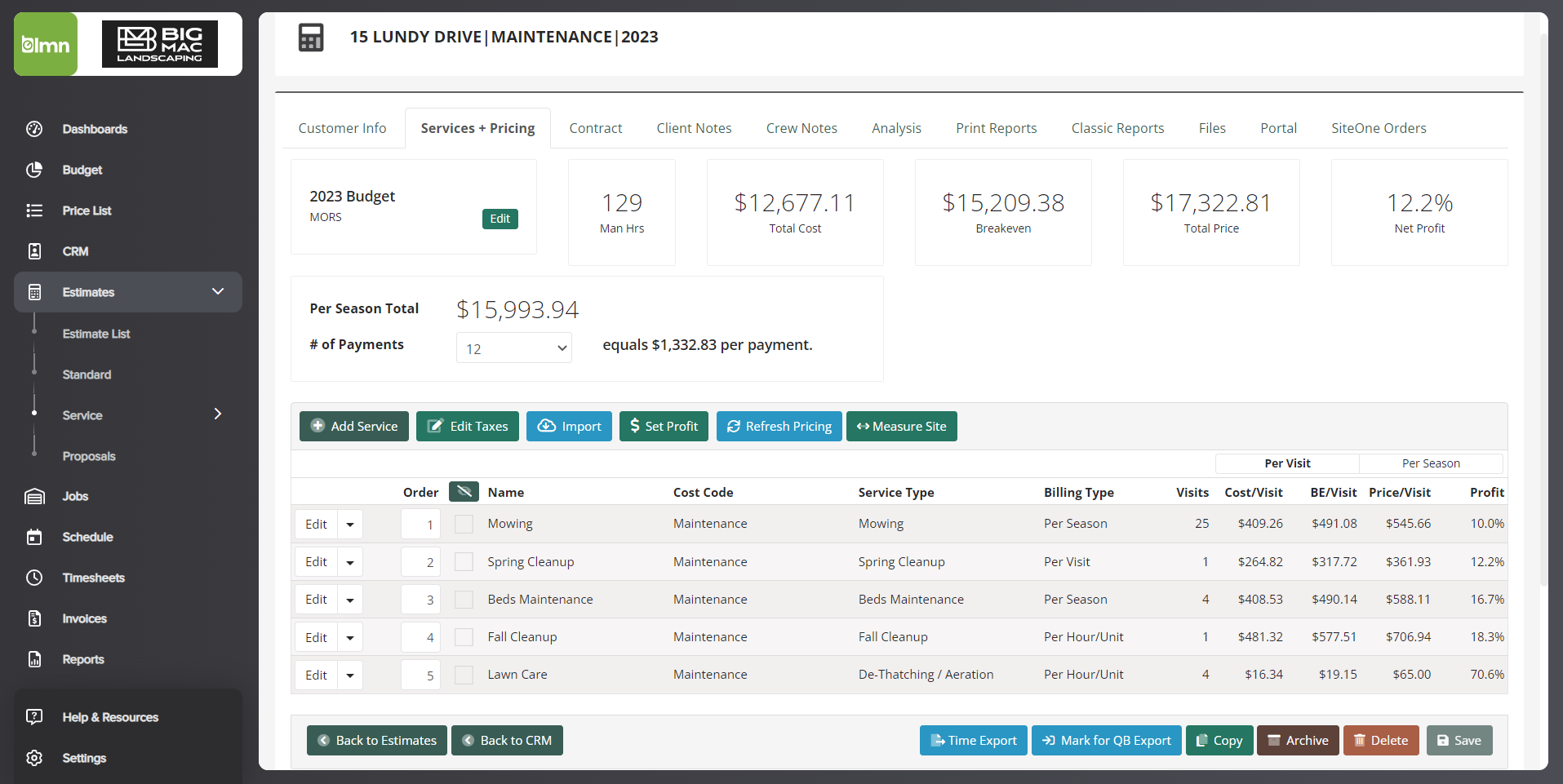 SUMMARY: rolls up all Per Season services into one line item, with total 'monthly' price.
DETAILED: separates all Per Season services into separate line items, each with their own respective 'monthly' price (and # of visits)
Per Hour/Unit: looks the same between both Summary & Detailed
Per Visit: looks the same between both Summary & Detailed
Detailed

does not

show individual line items
Changing Estimate Import Type
If you would like to include all the estimate details when exporting estimates to QuickBooks, you can do so by setting your Import Type to Detailed. When using this method - all of your estimate details will get exported to QuickBooks, including all your labor, equipment, materials, subs and other items built into the estimates. Simple imports an estimate with a grand total only and summary imports an estimate with work area totals but not the items in the work areas.
To export details for one estimate...
Open the QuickBooks Sync Tool
Click on Import Estimates
Go to the Import Type dropdown menu | click on it

You can choose Detailed-print details to export all estimate item details to QuickBooks and it will show/print them on customer printouts
OR, you can choose Detailed-hide details - this will export all estimate item details to QuickBooks, but it won't print them on customer estimates/invoices
To always export details for your estimates...
Login to LMN
Click Settings > Quickbooks
Under the Default Export Format section, look for the Standard Estimates dropdown
Open the dropdown and choose your default export setting. Although you can always change the way an estimate is exported on using the Sync tool, this setting will default your export method to the style of your choice.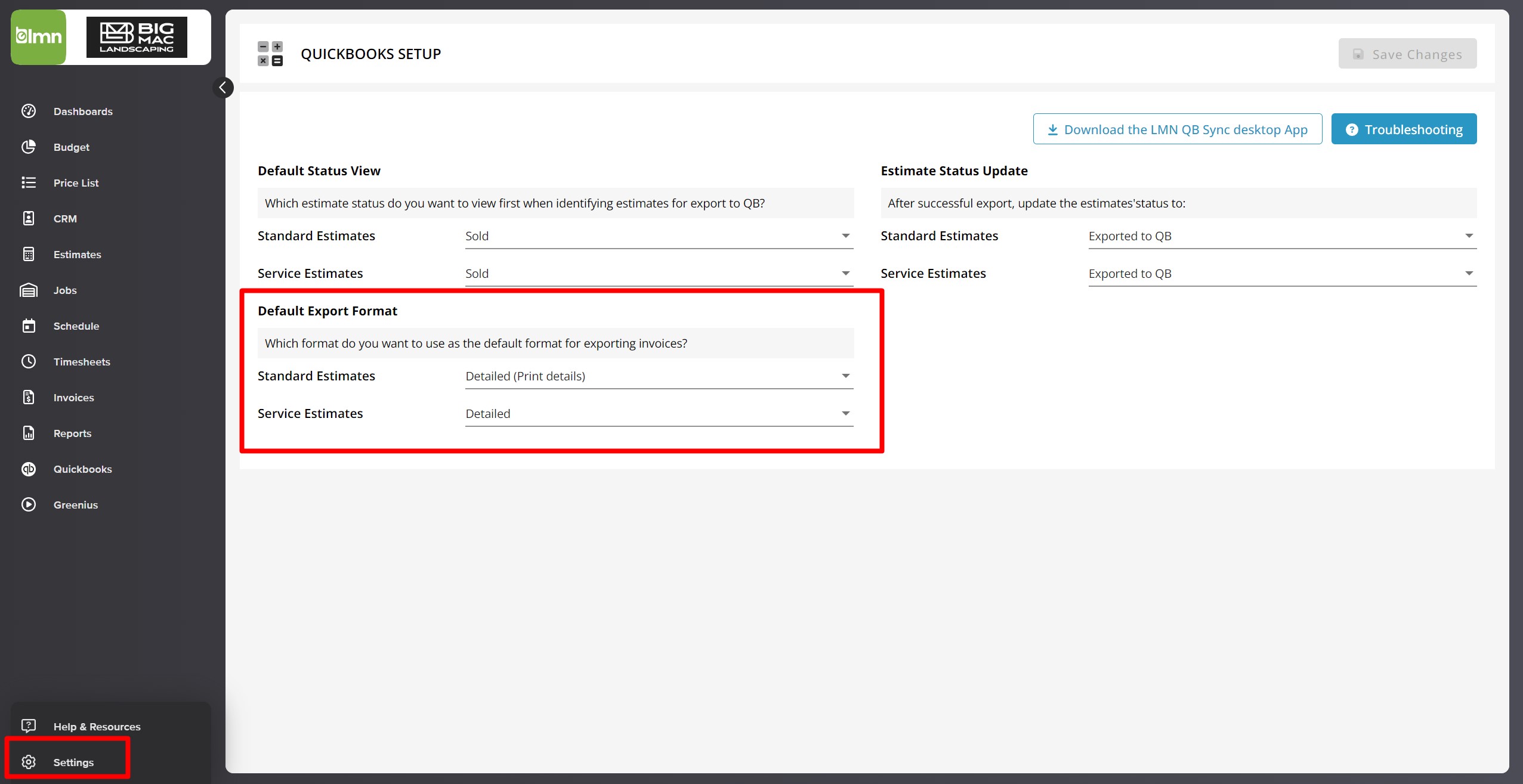 Exporting Payments to QuickBooks Desktop
In order to export your payments from LMN to QuickBooks, please follow these steps in the guide below:
Download the LMN/ QuickBooks Sync tool.

The sync tool can be downloaded in the main LMN page by clicking on QuickBooks in the menu and then Setup. Once there you will see a button to download the LMN QuickBooks Desktop Sync App.
Make sure your Cost codes, Taxes, and Classes (if applicable) are set up properly in Step 4 of your sync tool.
Match Payment codes in LMN with your Payments in QuickBooks in Step 6 by left clicking on the QuickBooks code and dragging to the LMN code. *Note your Payment methods may differ from this example* If you have no LMN Payment Codes created yet, this is done in your Settings in LMN. (Please note CardConnect payment code will automatically be created the first time one of your customers pays an invoice online).
Select your Payment Settings
Click Next and then OK. Congrats! You're done setting up the sync tool for syncing payments!
You can now go into LMN and click Invoice then Payments.
Select the Payments you want to Export by checking off the check box next to each Payment, or by selecting all checkboxes. Once selected, click Update Status and Export to QB.
Now that your Payments are queued, you can go back to the Sync Tool and click Publish Payments then Sync Now.
Congratulations on syncing your Payments to QuickBooks Desktop!
How to Disconnect Company File
You may need to disconnect your company file for various reasons. Some reasons for this could be because: the incorrect company file is connected, contacts/ jobsites/ cost codes are not populating correctly, multiple users logged in on the same file, or you are receiving an error message while trying to open your QuickBooks. Here are the steps to disconnect:
Open QuickBooks Desktop
Click Edit
Then, select Preferences

Click Integrated Applications

Select

Company Preferences

Tab

Make sure your "Application Name" has a check mark beside it
Click "Remove"
Hit "OK"
How to run QuickBooks Desktop or LMN Sync with Administrator permissions.
Sometimes Quickbooks will show an error message "Could Not Start Quickbooks." More often than not this can be overridden by running the program with Administrator permissions.
QuickBooks Desktop Sync Tool throws an ERROR when connecting to some Company Files in LMN

QuickBooks Desktop Sync Tool after the most recent upgrade to QuickBooks 2022.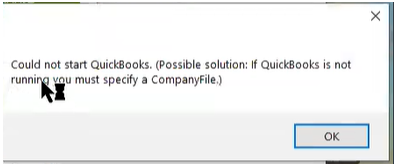 To start:
please make sure there are NO Quickbooks processes open. Exit out of the programs completely so they are not running in the background AND use Task Manager

(ctrl + alt + delete)

to double check.
Once this has been completed, follow these next steps:
Right Click on the QuickBooks icon on the desktop and select "Properties" from the list.
This will open a new window where you would select the "Compatibility Tab" then check off the box "Run this program as Administrator"
Please be advised you MUST select Apply to save changes to the settings, and then OK to exit.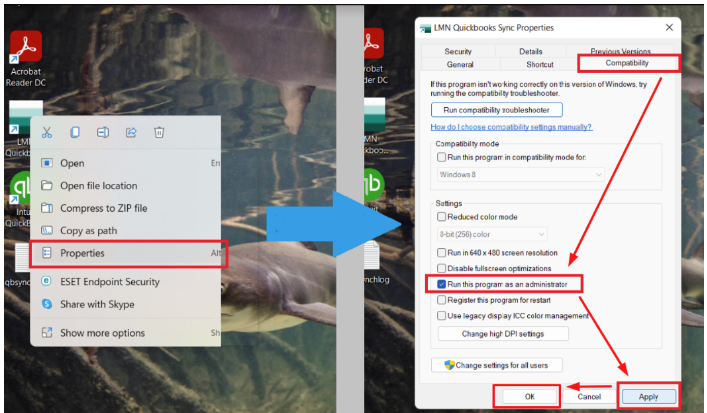 The same process should then be followed for the LMN Sync Tool as well to complete the Administrator connection.
Once this setting is enabled for both programs:
Re-open the QuickBooks Desktop Pro 2022 Application > Log In As Admin User

In LMN Desktop Sync Tool > Settings > Connect QuickBooks Company File > Ensure you have the correct file path from QuickBooks (FN + F2) > Press OK.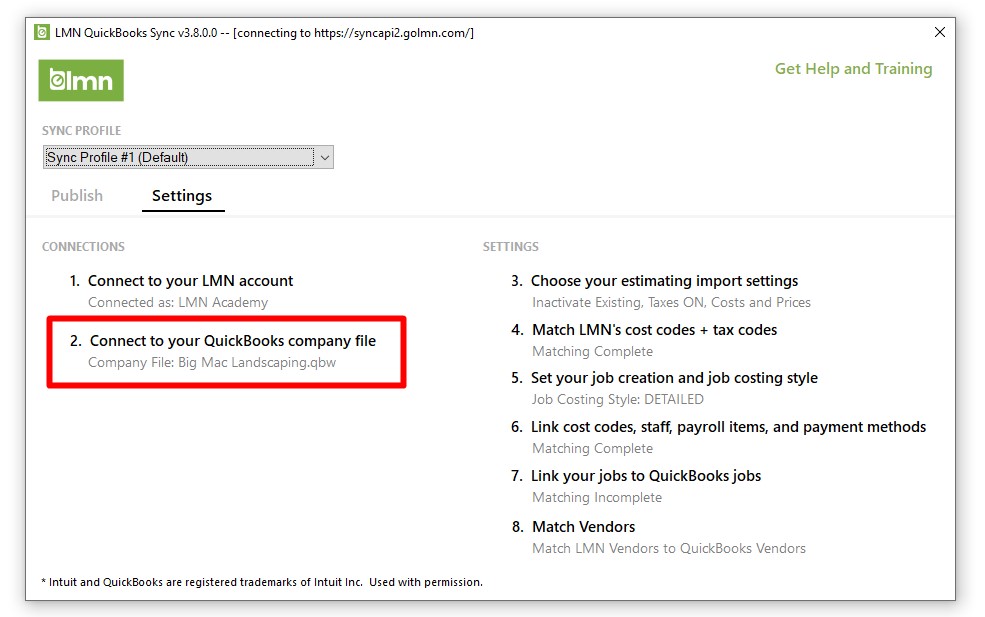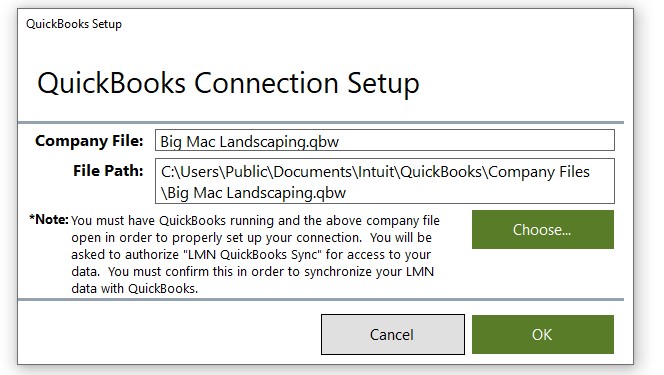 At this point, after administrator permissions have been refreshed, QuickBooks Desktop Pro 2022 should connect to the Company File as intended!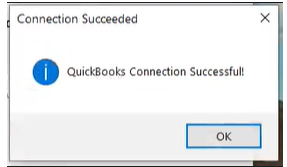 Will LMN automatically calculate Overtime When Exporting To QuickBooks?
Yes, LMN will use your overtime rules to split regular time from overtime when exporting timesheets to QuickBooks Desktop (not QuickBooks Online).
You just need to have a few things in place...
Make sure you've setup overtime payroll codes in QuickBooks
To setup your company's overtime rules, login to LMN, then go to Settings > Payroll & Overtime menu

On the Settings > Payroll & Overtime screen, configure your overtime rules and thresholds
You can also configure your default regular and overtime payroll codes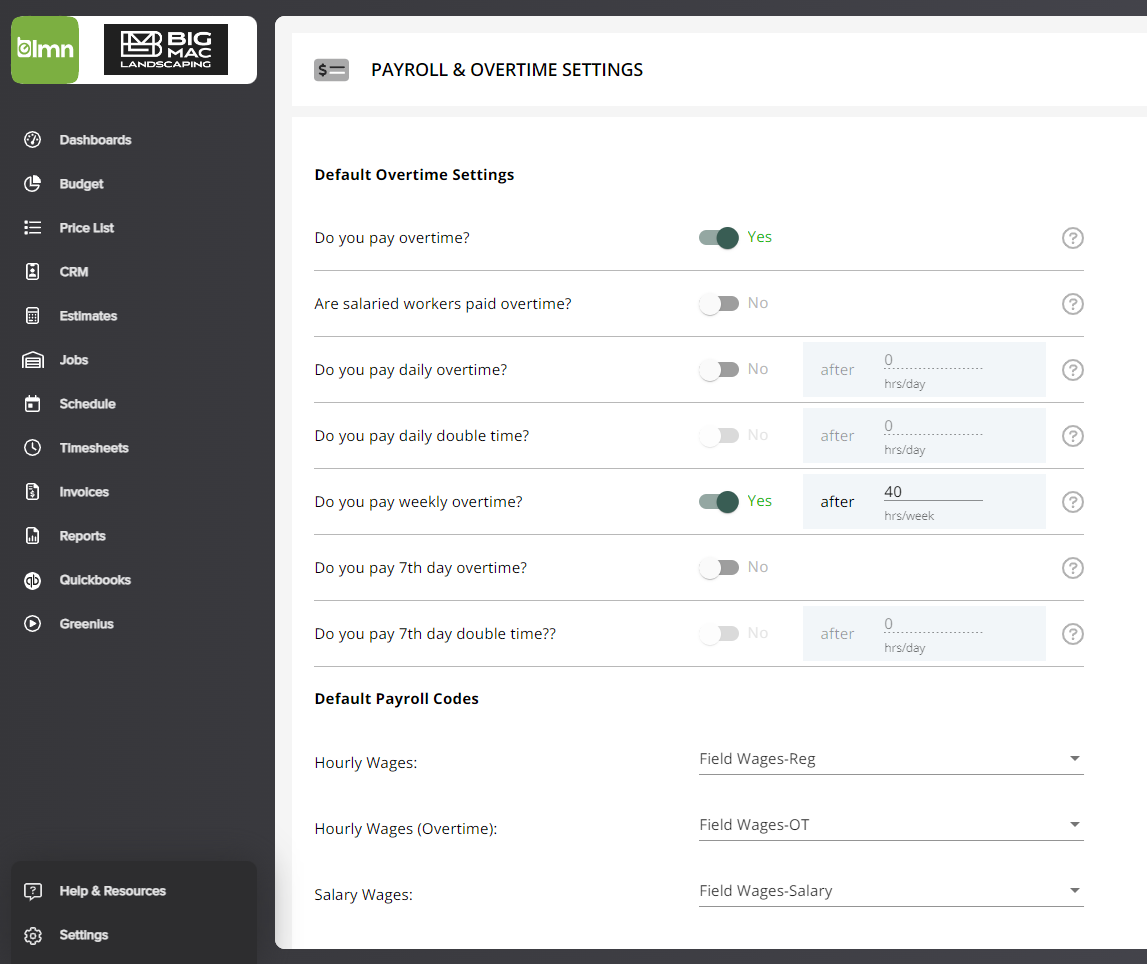 When LMN exports hours and payroll codes to QuickBooks, it will look to your settings to determine at which hours (e.g. 40 hours per week), employees need to be paid overtime.
Once an employee passes the overtime hours threshold, LMN will export overtime hours using the overtime payroll code to ensure employees get paid the appropriate wages (e.g. time-and-a-half) for overtime hours.
Note: when exporting payroll timesheets, you must export a complete week at a time so that overtime can be calculated accurately.
Why Don't my QuickBooks Employees Show Up When I go to Match Them in the LMN Sync Application?
The employees are not showing up in the LMN Sync application because you are not logged in as the administrator in QuickBooks. Close down the Sync app and QuickBooks and log back into QuickBooks as the administrator.
OR
When you first setup the LMN/QuickBooks sync it asks you for your permission to access employee information - if this is not checked off then the employees will not generate when you go to match them in the sync application.
To check to see if you have given LMN the correct permissions please follow these steps:
In QuickBooks:
Click on edit> preferences> integrated applications> company preferences
Make sure that "allow this application to read and modify this company file" is checked
Make sure that "allow this application to login automatically" is checked
Lastly make sure that "allow this application to access Social Insurance Numbers, customer credit card information, and other personal data" is checked
if this last box is not checked off it won't allow LMN to pull the employees from QB
"LMN SYNC Tool has stopped working" and shuts down
When attempting to sync to QuickBooks, you may encounter a situation where the LMN Sync tool Shuts down with a message "LMN SYNC TOOL HAS STOPPED WORKING".
This typically happens as soon as you proceed to press "OK" after entering and updating the FILE PATH in Step 2.
This is an extremely rare occurrence!
The necessary steps to address this specific issue would be to...
UNINSTALL and REINSTALL both QuickBooks AND the LMN Sync tool
Attempt to run LMN SYNC again (Step 1 & Step 2)
Problem should be resolved at this point
Troubleshooting LMN's QuickBooks Sync Tool Install
IF YOU'RE INSTALLING LMN QuickBooks SYNC FOR THE FIRST TIME...
Log into your LMN account (go to my.golmn.com and enter your username and password)
Click Settings
Select Quickbooks
At the top of the page, select "Download the LMN QB Sync desktop App"
Save the installation file type to your PC.
To install the LMN QuickBooks Sync Tool program from the file you downloaded to your PC, double-click on the LMNsync.msi file.
Notice: When you install LMN's QuickBooks Sync program (on Windows 7, 8, & 10) for the first time, you will see a blue security warning screen pop-up from Microsoft. This is normal and you do not need to be worried. The installation is safe (if it was downloaded from your LMN account). Simply click 'More Info' on the blue security screen pop-up and then click 'Run' or 'Run Anyway' and the installation will start. Once the tool is installed, you'll see a blinking task-bar notification (across the bottom of your computer screen), letting you know your LMN QuickBooks Sync Tool was successfully installed.
IF YOU'RE UPDATING TO THE LATEST VERSION...
Launch LMN's sync tool. Accept the critical update by clicking 'Ok' or 'Yes'. Make sure to click 'Save or Save As' rather than 'Run' (this will download the update file to your computer).
Go to where the update file downloaded to on your computer (usually, your computer will default all downloads to your "Downloads" folder). Find the file called lmnsync.msi
Now right click on the downloaded file called lmnsync.msi (Windows says it is corrupted- it is not, do not worry) from LMN to install.
Select "Run", or "Run Anyway", to allow LMN to complete the update. The lmnsync.msi file is safe to run and will update the LMN QuickBooks Sync program the latest version.
After following these steps, the program will complete the update installation and you will be able to use LMN's QuickBook Sync Tool!
LMN QuickBooks Sync Tool & Update Error. "The signature of the program is corrupt or invalid."
"The signature of the program is corrupt or invalid." is a message that will pop up when your computer does not recognize the signature of a .msi program. Note our LMNsync.msi file (the update) is safe to download, so you can ignore this error message as long as you are sure you are opening the file downloaded through the LMN QuickBooks Sync Tool and download the update.
It Won't Authenticate my LMN Username and Password in the Sync Tool
Check that the username/password you are using is active and can login to LMN normally (my.golmn.com)
Check that the user account you are using has the Accounting Admin security setting = TRUE (only your account administrator can make changes to this security permission setting)
Check your computer's SYSTEM TIME AND DATE – it must be with 2 min of the accurate time/date. The date/time matching is an important part of a security algorithm designed to prevent unauthorized access to your account.
Installing QuickBooks Sync on a Cloud Server
If you are looking to install your QuickBooks on a cloud server the host of the cloud server might ask what ports LMN QuickBooks Sync needs access to, along with what the application requirements are.
The ports we use to access data out of the LMN Database before it goes to QuickBooks are the following:
Standard HTTP and

HTTPS

ports should be open (80 and 443).
The application requirements are:
Firewalls:
Just make sure that the firewall isn't blocking the LMN software
How to I apply revenue and costs to the correct divisions when the customer has an annual contract and gets one invoice per month?
When dealing with 12-month or annual contracts (ie. Maintenance and Snow services), you can design your Estimates in LMN to capture your pricing for both your Maintenance and Snow portions of your contract.
In just a few easy steps, you can setup your monthly invoice(s) to allocate the correct revenue to each Service Item (ie. Maintenance, Snow).
STEP 1: ENSURE YOUR ESTIMATE HAS BEEN SETUP CORRECTLY
The Services on your Estimate must be assigned the appropriate Cost Codes, in order to be funneled into the appropriate Service Item when exported into QuickBooks.
For example, ensure your Maintenance Service is designated with your 'Maintenance' Cost Code and your Snow Service is designated with your 'Snow' Cost Code (see screenshot below).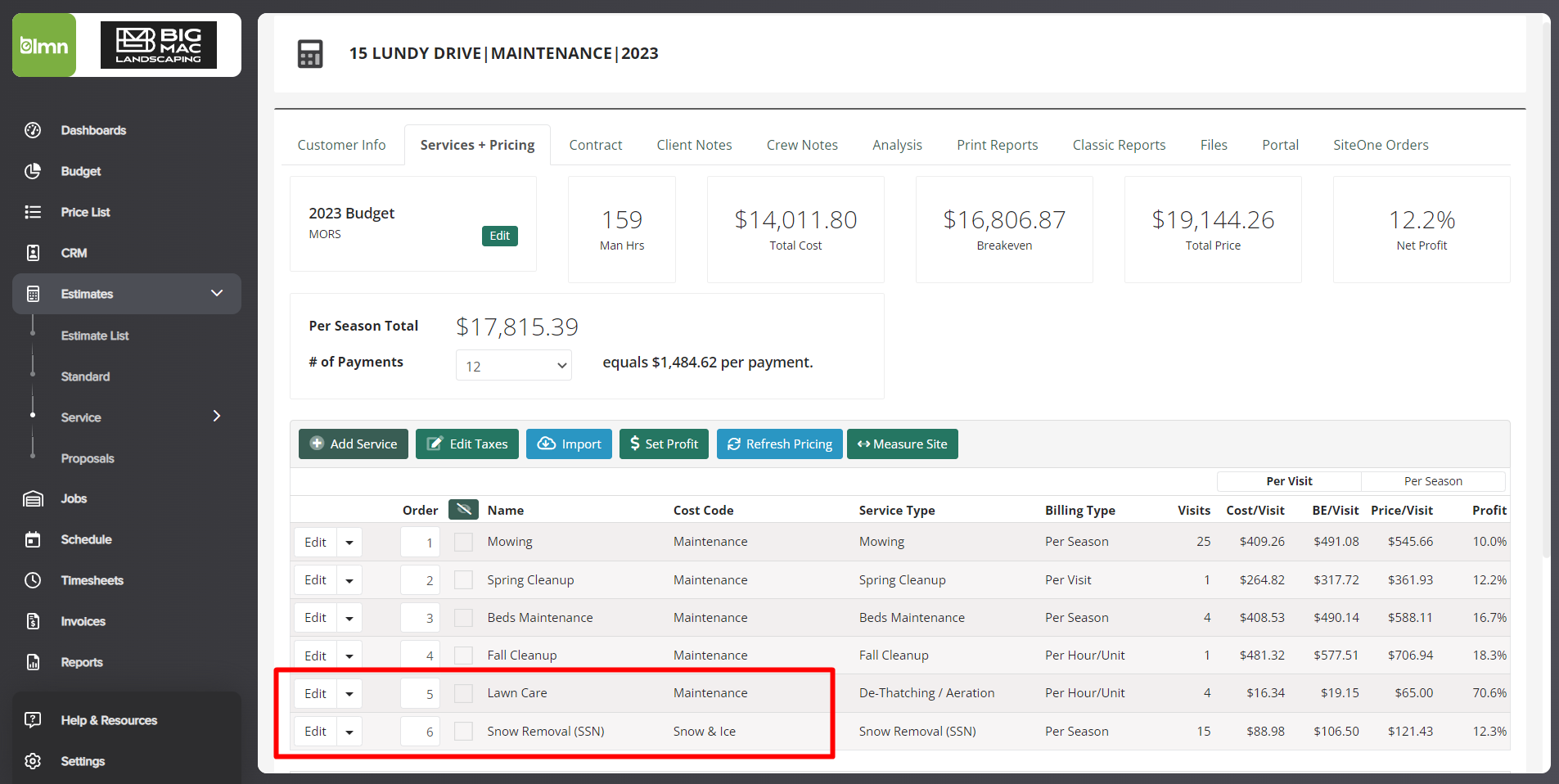 STEP 2: CREATE A 'GROUP' IN QUICKBOOKS
Most companies don't want to show their annual customers a separate total for maintenance and snow but they do want to track the revenue and costs to the appropriate divisions. You can do this with Groups (and a little bit of manual work).
By creating a Group in QuickBooks, you can create separate invoice line items (which allows you to separate snow revenue from maintenance revenue), but the group will only show the customer a single total.
Access your QuickBooks Company File.
Select Lists > Item Lists.
Right-click anywhere on your list of Items, select New.
Under the TYPE drop-down, select Group.
Assign it a Group Name/Number (eg. 12 Month Annual Contract).
If you wish to assign it a Description, this information will appear on your Invoice in QuickBooks on a separate line below the Group.
NOTE: leave the "Print items in group" as unchecked if you wish to show your customer 1 total price for the month. (this hides the breakdown of snow revenue vs. maintenance revenue on the customer's version of the invoice)
Press OK to complete the Group.
STEP 3: IMPORT YOUR ESTIMATE INTO QUICKBOOKS + ADD GROUP
Using the LMN QuickBooks Sync Tool, sync your Estimate into QuickBooks.
Access the Estimate you have imported.
On a new, blank line, click the drop-down area beneath the Item header and select the

Group

you wish to add to your Estimate.
Once added, using the original pricing imported from your Estimate, re-enter your pricing under the Total header within the

Group

for each of your Maintenance and Snow Service.
Delete the lines from your original Estimate, so that you are left with only the pricing from your

Group

.
Now when you go to generate an Invoice from this Estimate, your % that you enter for your invoice (ie. if a customer is billed on a monthly basis, 1/12th is equal to 8.33%).
Your Invoice will now be broken down into a monthly payment and allocated to the appropriate Service Item designated for your Maintenance and Snow service.
You can then Memorize this Invoice and set it up to auto-invoice the customer once a month for the next X number of months so this customer's invoicing is complete for the rest of the contract (for more information on Memorized transactions, click HERE).
If you require further assistance, please contact our Support Team via email at support@golmn.comor reach out to us through our Live Chats feature or by Phone: (888) 347-9864!